Sushi at Tsujiki Market makes for great dinner conversaion while Midori Sushi at Shibuya Mark City is somewhere you hope nobody finds out.
Fat chance, baby! At 10:40am, with 20 minutes to opening time, I was maybe the 20th in line and by 11am, the queue had grown twice as long.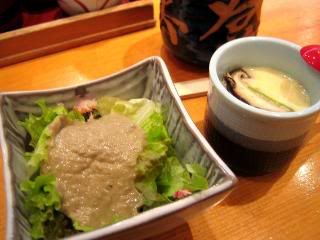 Before the sushi arrived, small bowl of crab liver salad and chawanmushi kept me entertained. The chawanmushi was forgettable (I really don't remember much of it) but the crab liver salad was baffling.
On first bite, the mooshy crab liver illcited neither excitment nor desire and was definitely not something anyone would leap off a building for. Its distinctive muddy flavour tasted like wet pate; yet without noticing, I polished off my salad and was left wondering if I could find something in Singapore.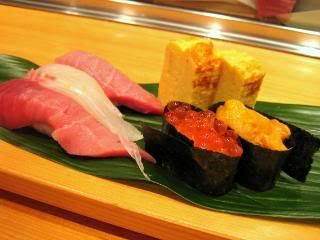 Being seated at the sushi counter, the chef asked me if I wanted my sushi served on a plate of leaf. Well, he asked but it took a waitress to translate what he was saying, in any case, leaf, of course! Only because I've never had something like that in Singapore.
The Special Set (2100 Yen) was an experience that launched a thousand groans. It was an all-encompassing treat of maguro, chutoro, flounder, ikura, uni, anago, tamago, hotate, crab leg, amaebi and negitoro handroll.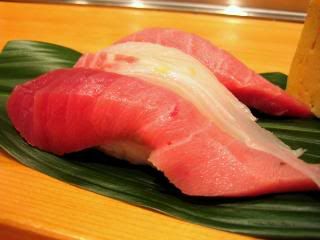 Hunky-dory slabs of fish - there was no holding back on the cuts here.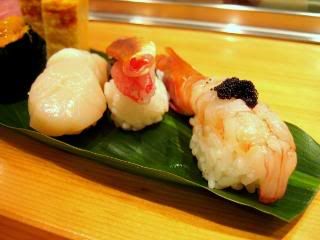 I left feeling
fat
fed and incredibly satisfied. Oh, how am I ever going to settle for what I get back at home?
Midori Sushi
Dogenzaka 1-12-3
Mark City East 4F
Open 11am-10pm daily
Tel 03-5458-0002