Here is a chirashi bento that needs no introduction.
Matsuo's chirashi bento is regarded by many as a cure for Monday blues and celebratory treat for TGIFs.

Despite consisting of many items like maguro, salmon, kampachi, amaebi, boiled prawn, unagi, hotate, tako, a spooful of tobiko and tamago, I felt noticebly unexcited when it was placed in front of me.
The scrappy pieces strewn untidy over sub-average rice felt like kitty litter to me. To me, the chef was more interested in churning out as many bentos as his slice-flick-serve skills could take him.
The smooth-as-chartreuse-silk chawanmushi did make my heart a little loopy. Surprisingly, the typical devil-may-care service was pretty good, palatable even.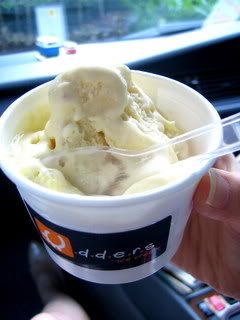 The Mao Shan Wang ice cream from Udders would make anyone go,
D Twenty-Fwoar!
A bite of which immediately evoked the image of a single fleshy seed in my head; the rich bittersweet kind, with colour that would put any sunset to shame.
Matsuo Sushi
1 Goldhill Plaza
#01-17 Goldhill Plaza
Tel: 6356 2603

U.d.d.e.r.s Ice Cream
155 Thomson Road
Goldhill Shopping Centre