These days, "small family-run restaurant" seems like the pick-up line of choice for restaurateurs.
Like "home-made cookies" and "Granny's recipes".
That is what Ristorante De Parma prides itself as anyway.
But like most family gatherings which starts of with the best intentions, things veer off the warm-fuzzy-feeling track into the i'm-so-glad-we-only-see-each-other-once-a-year path.
A meal at De Parma kicks off (Italian-soccer style, no less) with some foccacia. Toasty but soft and wholly home-made; the nerves at my fingertips teased my brain, "you are going to like this..." Like the Italian soccer team, I approve.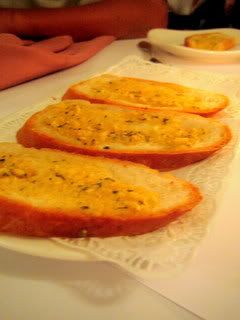 The garlic bread materialized in the form of minced garlic topped on croutons, a significant contrast to the pillowy foccacia earlier. If only I had ordered soup to dip this into!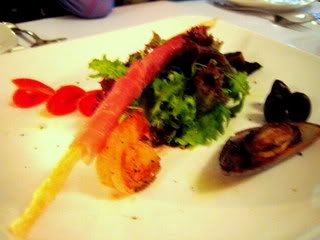 The antipasto misto petite, with an emphasis on PETITE, arrived as a shock. The ensemble of parma ham, mussel, prawn, mushrooms, semi-dried tomatoes, capsicums & olives, with De Parma's house dressing, was somewhat unsatisfying for
$16.90
pathetic for the hefty price tag of $26.90
.
WHAT WERE THEY THINKING?!
Update 29 Jan 09: Ping from Ristorante De Parma commented to clarify the change in prices.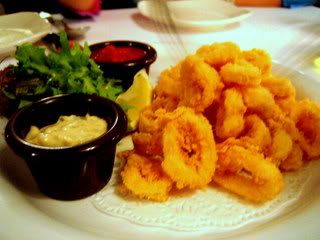 The calamari reminded me of KFC's popcorn chicken, which could be good or bad depending on how much you like Colonel Sanders. The batter was clumpier than your average calamari but the special tomato house sauce made for a great dip.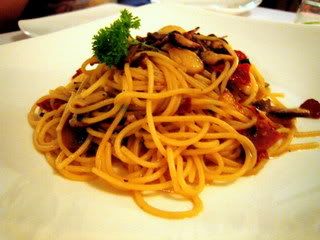 The spaghetti con prosciutto fungi offended with an overwhelming bitterness of the burnt garlic; equally overdone was the prosciutto. Pity for it would have been good if not for the missteps.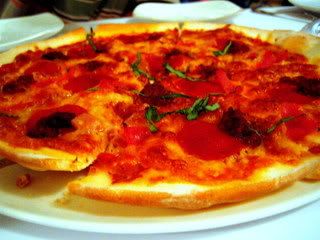 Topped with beef, ham, pepperoni, bacon & salami, the Pizza di Menzo was supposedly a tribute to meat lovers. Despite the scanty toppings, it was full of flavour; perhaps more toppings would have made it too salty. Its crust was thin but not like wafer, cracker biscuit thin… more like 'yeah, I could do with a second or third slice ... MM' Oh yes, you got to have nimble fingers to hang onto the barely-there crust.
We didn't have dessert since I (usually the dessert person) am not a fan of Italian sweets. I know people have been raving about their tiramisu but all of us around the dinner table were definitely not fans for a variety of reasons, namely the presence of raw egg, choking cocoa dust and alcohol.
Not as if dessert could undo the damages anyway.
Ristorante De Parma
14B Kensington Park Road
Serangoon Garden Estate
Tel: 6281 3380 / 6280 1096