I think the most memorable meal my sister and I had in Japan was a kaiseki lunch at Tankuma, Kyoto. On our way there, we kind of got lost as Tankuma was located in an insidious corner near Ponto-Cho and it didn't help that restaurant signboards were written in kanji character. We arrived at Tankuma 5 minutes late – would have been later if not thanks to directions offered by the waitress from Ogawa Coffee, random guy on the street #1 and #2 and a construction worker.
Inside, we were shown to a private tatami room that was simply furnished as if not to distract us from the intricacies of the meal that soon followed. The lady who served us throughout the meal was dressed is a jade-green kimono, spoke no English but upheld the exemplary Japanese service etiquette.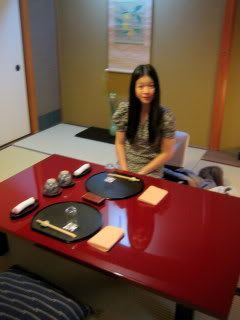 Kaiseki is regarded as haute cuisine where seasonal ingredients undergo light touches, prepared to showcase utmost refinement. Tankuma is known for itamae-kappo (chef's cuisine) and we went with the prix-fixed menu, which was decided a day in advance because they had to prepare the ingredients.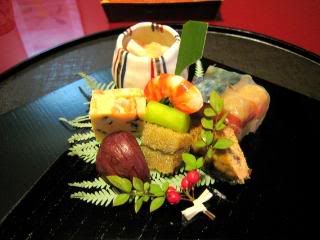 The starter was a smorgasboard of pickled vegetables, tamago with minced vegetables, slices of beef treated with wine, kelp sandwiched between fish eggs, freshly peeled boiled prawn, finger-sized cooked fish eggs, a couple of mackerel "hakozushi" and half of a huge chestnut.
I loved the presentation – the ickle bite-sized stuff, the subtle sweet savories and the warm colour palette. Flavour-wise, it was on the mild side but things nonetheless worked harmoniously alongside each other.
Next we had some sashimi - tai (red snapper), ika (culttlefish) and maguro (tuna) – that were doubtlessly fresh with firm but squidgy texture. The ika, in particular, was unlike slimy scums I've had before.
Following that we have a bonito-based clear soup with prawn ball, sheer daikon slice, carrot and mushrooms. I'm sure I'm not doing justice to this dish. I'm sure it's more than just your average "mushroom" and "carrot". Again, very pleasantly light but the flavours were well-noted.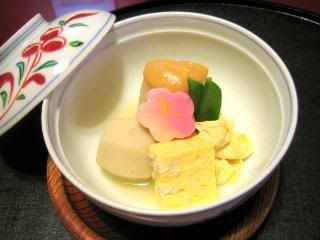 In this pretty bowl, there was a too-cute flower fishcake, steamed egg, shaved yam, and something else (I apologize for my short-term memory), topped with some murky brown miso-ish paste.
By now, I was half-craving for something other than steamed or boiled, and LO AND BEHOLD, we received a grilled crab leg, perched on a grilled fleshy fish. Only in the sanctuary of a private tatami room could I dig, prick and spear the crab leg unglamorously.
The arrival of a rice dish signaled the nearing end of the meal. I love how the Japanese like to add stuff into rice without the big greasy fry-up; here we have some rice tossed with fish flakes.
For dessert, we had brown sugar konnyaku cake, a strawberry and slice of pear.
By the end of our well-paced 2 hour lunch, I was
hara hacha bunme
("80 percent full") and pretty much a kaiseki convert. If truth be told, my explanation below is about 60percent correct as our server didn't speak any English so I probably missed out the crucial explanations.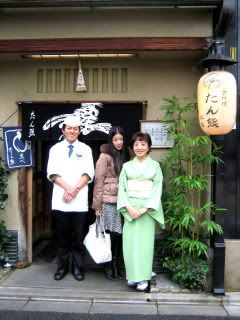 There's my sister posing with one of the men who prepared our meal and our server outside the restaurant.
However, I can't say kaiseki is for everyone because you pretty much need to be
in the mood for kaiseki
. Que Yumeji's Theme by Shigeru Umebayashi. Also, much of dining in Kyoto seemed awfully surreptitious so I would advise you to ask a Japanese or your hotel concierge to make a reservation for you.
ONE BIG BURNING QUESTION – Is it possible to get authentic kaseiki in Singapore?
Tankuma
355 Kamiya-cho, Shijo-agaru
Nishi-kiyamachi, Nakagyo-ku
Tel: 075 – 221- 6990