Last Sunday, I was down with food poisoning. I slept for most of the day, only waking up at mid-afternoon to watch some dvds with my sister before heading back to bed a few hours later.
The next day I was feeling slightly better and decided to have "proper food" instead of random snacks and raw fish. When in Hong Kong, the first 'comfort food' thing that popped into my mind was congee. I searched for 粥 on openrice.com and found reviewers raving about Sang Kee Congee Shop 生记粥品.
The 40 year-old congee virtuoso specialises in fish belly congee and there was a mind-boggling selection of noodles and congee. I settled for the fish belly and beef congee because fish belly was Sang Kee's thing and I was craving for some red meat. Odd isn't it, that I'm craving for red meat when I'm ill?
A pipping hot bowl of congee chocked full of ingredients, fresh hunks of tench and super tender beef slices. You only truly truly realise the importance of comfort food when you have been down and out.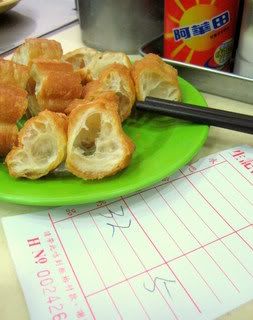 I could detect a little fishy-middiness of the river fish but it could be due to my still-in-recovery hyper-sensitivity; but I would definitely order another beef bowl in a heartbeat. One could definitely get better dough fritters eslewhere as these gave me a jaw-xercise; though, a quick dunk into the congee soften things up.
Oh yeah, there is a HKG$3 discount before 10am - nice of the waiter to offer me discount at 10:01am.
Sang Kee Congee Shop 生记粥品
7-9 Burd Street
Sheung Wan
Opening hours: Mon - Sat 06:30 - 21:00hrs