When I was ill, my mum tried to give me some advice on how to make congee when I told her I was well enough to walk out of my sister's apartment to get food.
Well, you will be sick of dining out, she said.
I don't think so. Especially not when I get to call the shots. I'm such a
Control Freak
Dine-Out-Buy-Back buff; I relish the moments when the menu is handed to me; the bevy of choices laid out before my eyes; and how it usually it takes as much time to make a decision and be served (I'm a very indecisive diner).
I might dream about my perfect apartment (pent house, city skyline view with Eames furniture) and the perfect kitchen; but it is also the perfect kitchen that will hardly be used - except for the microwave oven. Dining out makes me feel like I'm being taken care of. And loved.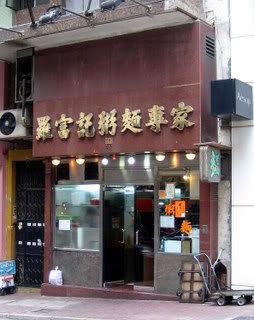 One warm weekday, Diana and I met for breakfast at Law Fu Kee for congee. Sadly, us early birds didn't get to order their signature deep-fried dace fish balls, which they only started serving from 11am.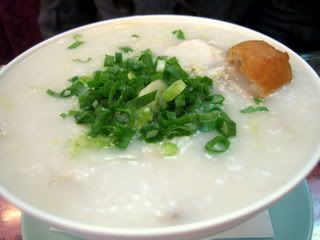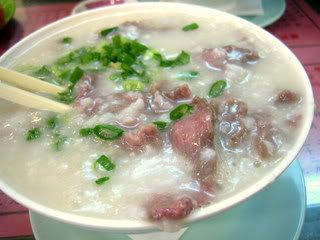 Diana had the Fish Slice Congee while I went for the "Slippery Beef Congee". 'Slippery' as in 'slip off tongue' slippery? Why yes! The congee was impeccably smooth, it felt as if the rice grains had been smelted into one another; and the beef was all glory tenderness.
I like the congee at Law Fu Kee more than Sang Kee. It was richer and I didn't have to add any soya sauce to salt things up.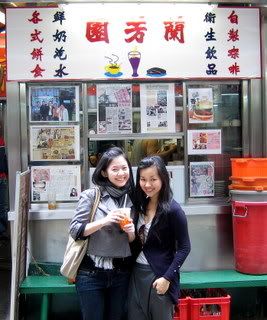 After breakfast, we walked around Central and IFC, where Diana tried on party dresses and got tea from Lan Fong Yuan. A tough-looking guy perched his stool in front of the Lan Fong Yuan takeaway stall surprised us by agreeing almost too readily to help us snap this photo, and we were almost run over by some hugeass truck.
Personally, I've been closed to getting knocked down by [insert any vehicle here] countless times since I got here. This is part of their 'Welcome to Hong Kong' greeting.
We walked into Li Yuen Street and found this makeshift store selling funky sunglasses and spectacles. It was nice of the shop owner to let us take silly photos even though we initially didn't have intention of buying his stuff. I like the oversized glasses, makes my face look smaller than the meatball it really it.
Law Fu Kee Congee and Noodle Specialist 羅富記
1) G/F, 144 Queen's Road Central
2) G/F, 50 Lyndhurst Terrace, Central
Opening hours: 8am – 10pm