With more than 7 million people squashed into a tiny tiny city, there is no point in thinking, 'eat where the locals eat' because you will find basically breathing human beings everywhere at any time of the day.
However if you still want to eat like a local,
look out for the retirees
. Yup, slightly elderly people, usually with their other halves, sharing their meals together wordlessly but comforted by the presence of each other.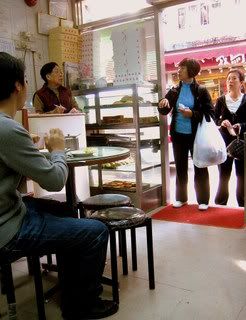 Kam Fung does busy breakfast business. There is a counter bakery where people knowingly stop for their fix of pineapple buns and egg tarts; inside the restaurant, locals tuck into quintessential Hong Kong breakfast - instant noodles and macaroni.
Service is hmm, Basic101. You tell Man With Scowl how many people, he points to an empty table, you take your seat, and he takes and serves your order.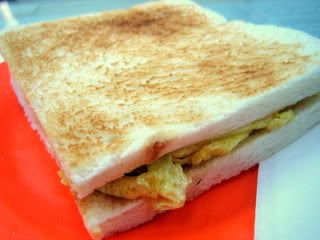 I came to try their fresh beef and omelette sandwich because somehow in all my trips to Hong Kong, I have never had a cha chan teng sandwich and Kam Fung was known for their fresh beef and omelette sandwich.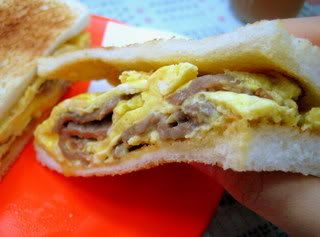 Deceivingly plain on the outside, the sandwich was extremely satisfying. For something so simple, it was all about timing; both the omelette and beef tendon niblets were taken off the pan in good time, resulting in fluffy wetish egginess and supple chewy beef hugged by plain white toast.
By then, it seemed like a good time to order their signature chilled milk tea, although I ordered the coffee version instead. Miraculously, Man With Scowl suddenly cracked a smile - perhaps aptly mirroring my look of dazed satisfaction.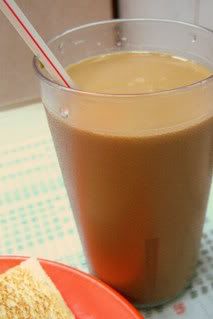 A couple of days later, I went for their Nutritious Breakfast Set C, which came with a thick ham omelette, po luo bao (pineapple bun) and their chilled milk tea.
Although only a
nation that is famous for serving instant noodles in restaurants
considers this "nutritious", the high-fat high-butter content agrees with me.
Kam Fung Restaurant 金凤茶餐厅
41 Spring Garden Lane
Wan Chai
Opening Hours: 6:45am - 7pm