As a self-professed control freak, the idea of omakase should worry me. The thought of letting someone else do the deciding for me is presumably morbid, not to mention totally uncharacteristic of me. Unless of course "someone" happens to be a head chef who has had over 20 years of experience. Someone like Tomo's Chef Andrew Tey.
While waiting for my friend, I chatted with the extremely candid Chef and Candy, the manager. Candid and Candy – I knew I would be well taken care of. An amuse bouche of jellyfish and paper-thin cucumber, tossed in yuzu-based dressing, appeared unknowingly.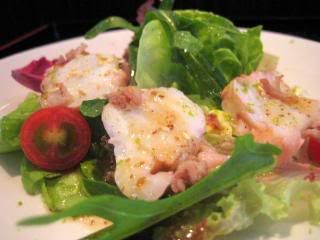 We officially began with the Tako Salad, a mix of greens and sliced boiled octopus, simply dressed in olive oil.
"The octopus is from Hokkaido" quipped Chef. Like many special items tonight, foreign talent is
in da house
.
Two huge plump raw oysters stopped me mid-sentence. I have never been fond of raw oysters and here I have two of the hugest specimens were staring back at me. There was no way of eating this without looking like a slob; I held my breath and gulped in the freshest shoyu-dressed oysters. Thank gawd the Japanese don't crucify people who slurp!
We didn't have much hot food as I told Chef Tey that I preferred sushi and sashimi. One of the two 'hot food' items he sent over was the Hotate Batayaki, sliced scallops grilled in butter.
The other hot dish was the a decadent Kani Tama Mushi, where we had to scrap the crab innards and ikura out of the crab's filmsy shell, and gently fold it into the chawanmushi. The interplay of salty ikura and sweet kani, squishy ikura and smooth chawanmushi was intriguing.
Soon after, a Japanese cherry fruit tomato arrived appropriately as a palate cleanser.
I almost squealed with delight when the sashimi platter was served. As excited as Charlie when he received the Golden Ticket, no wait, happier than that - more like Henry Paulson when he received the go-ahead for the US$700 billion bailout package.
The assembly of otoro, hotate, hamachi, amaebi, salmon belly, mekaijiki, welk and akagai was resembled a reunion of the who's-who in Sashimi World.
Otoro, hamachi, salmon belly, mekaijiki owned the 'Creamy' title, while welk and akagai pulled 'Crunchy' over; hotate and amaebi settled for 'Sweetish'.
With such a high benchmark, I could hardly wait for the sushi.
FINALLY.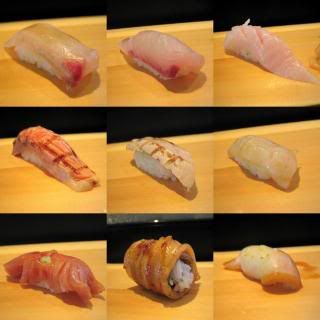 The first couple of nigiris -shima-aji and kampachi- served as a warm-up. Suddenly Chef Tey began working on one of the fugliest fish i have ever seen in my life - the flat flounder fish.
"Karei" Chef replied.
Immaculate and creamy.
"It's so good" I whispered in disbelief.
"I know... that's why I'm giving you two" said the smiling Chef before placing another nugget on our sushi board.
Next we had swooned over the trout and swordfish amiyaki, smoky, luxe fish slices pressed against sweetish vinegar rick.
Amkiyaki simply just means cooked over a wire grill but the name is oddly pretty. Can you imagine naming your girl 'Amiyaki' ... Hey I have heard worse names! Just check out the Jolie-Pitt clan.
We rerouted back to Raw and Crunchy with the geoduck and akagai nigiris, which were both firsts (and hopefully not lasts) for me.
"Enough?" asked Chef Tey. I smiled sheepishly as Chef proceeded to handle something that resembled dried beancurd skin. Two minutes later, a wound-up anago sushi appeared in front of me.
Oh my gawd. A mouthful of anago is an experience not to be missed and one that should be repeated on a regular basis.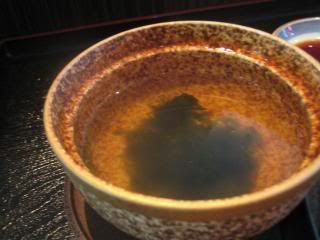 We washed it down with some clear wakame soup, which despite its unassuming appearance, bore an incredible aroma. By then I was beginning to feel the effects of our long dinner.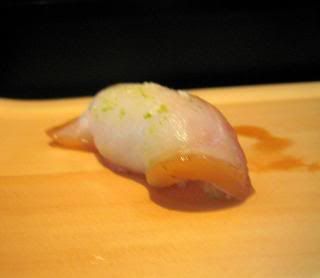 "One more?" said Chef
I never had the habit of listening to my gut anyway and I wasn't about to start tonight.
"My special weapon... I used to make this at Tatsu" said Chef as he took out an odd-looking object.
Was he going to serve me fishcake? I thought to myself.
"White Tuna?" Chef beamed.
I didn't even know such a thing existed! It tasted nothing like tuna though, more like a smoothened clam.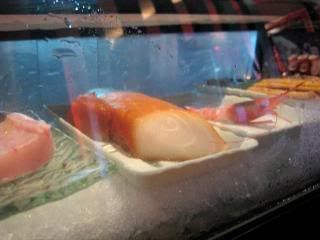 Just as my dining companion started to wave the white flag, Chef Tey challenged yet again.
"One more?"
Hell yeah.
"I will change your impression of maguro... You like spicy?"
I have trouble saying 'no' to this guy.
Chef Tey handed me a handroll, tightly wounded with tuna, chili powder and tempura flakes. Oiishi neh.
Finally, our three-long dinner drew to a close and I had a scoop of "xiao hei" - black sesame ice cream for sweets.
Omakase at Tomo was an epiphany. The personalized attention and superb quality spoilt me senseless. Crap, I don't think I would be able to look at Japanese food the same way again.