Although we used to visit Tampopo every other weekend, these days we only drop by when my elder sister returns from Hong Kong. Here at Tampopo, people normally leap through fire hoops for their Black Pig Ramen but I skipped past their black pig specialities and arrowed in on the SUSHI.
NOTES: I was particularly disturbed by an abysmal experience at Sushi Yoshida, which left me in dire need of a sushi fix.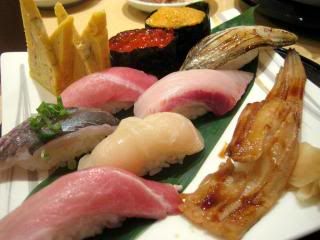 The Tampopo Tokusen Sushi was a handsome (and some say, 'ham-some') sushi platter consisting of chutoro, otoro, grilled hata hata, grilled eel, hamachi, hotate, tamago, ikura and uni.
It took quote a while to arrive but when it rolled by on the conveyor belt, I had one of those thank-gawd-they-didn't-lose-my-luggage facial expressions.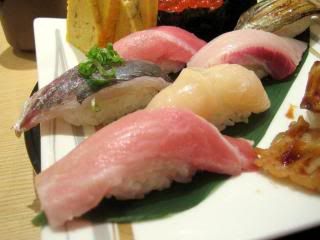 The colours, the textures, the felicitation! To the sushi-deprived such as myself, the Tokusen was an art masterpiece ... Picasso, Monet or whatever Mr Ex-Lehman-Brothers-CEO Dick Fuld was auctioning off at Christie's.


I'm just so happy to get my sushi.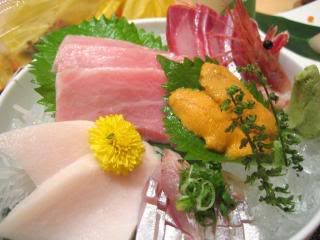 Sashimi Platter
I ate wordlessly, in an attempt to savour every bit of subtle sweetness.