The three slices of watermelon never looked better.
They did, after all, signal the end of a Japanese meal and our long long wait at Wasabi Tei.
It really was outrageous! On Saturday, Yang and I thought we wore the Kiasuism Badge loud and proud when we reached Wasabi Tei at 5:10pm. To our shock and horror, we found a freakin' long queue, complete with a family of SIX, in front of us. By 5:40pm, the first batch went in and the rest of us waited and waited...
"I see watermelon being served! I think some people are finishing their meal soon" exclaimed Yang.
Hallelujah.
Total wait time: Two hours
Casualties: Numerous
I'm referring to the fish of course. The mixed sashimi final headcount was twenty show-stopping pieces of salmon, meikajiki, tuna, tako and hotate.
The fresh plump slices posed as our congratulatory handshake. "Congrats for making this far!"
I love sashimi. Except maguro which I only take (if given) to remind myself of how much I dislike it.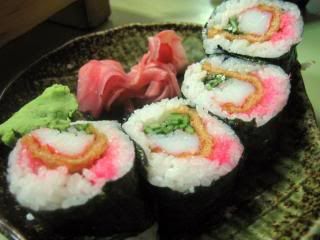 I know it may not possible but we did have a BLAH dish: the futomaki, which had crabstick, cucumber, beancurd skin and fish floss.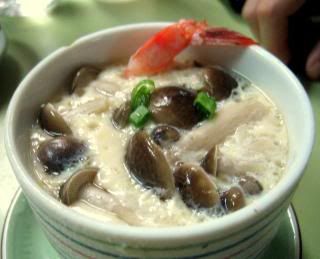 The chawanmushi was generously filled with enoki, chicken and prawn. It was still pretty darn hot when served. A silver of chawanmushi slipped off the teaspoon and landed on my palm, causing third-degree burns. For that 15 seconds, I sat in silence / agony, not daring to attract any attention lest I get thrown out.
Sigh, the things I do for food.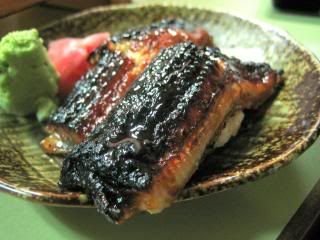 The unagi nigiri was sensational. The grilled eel just collapsed over the tiny mould of rice as if to say, 'I've done my best. I'm going to take a rest now. Please enjoy me".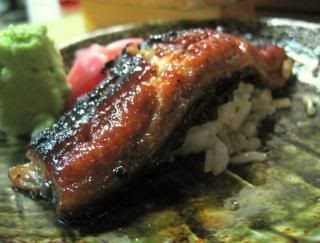 We literally dug into the kabuto shioyaki (grilled samon head) dissecting the head apart with our chopsticks and fingers. The remarkably sadistic-looking head would have been pretty good had it not been for the bitter-bitter cancer-alert skin.
I must say we did of good job of cleaning out the fish, leaving behind a tiny pile of bones and the I'm-not-touching-it eyeball. Eyeball. Just one because it was half a head.
My second trip to Wasabi Tei was still as good though the
blarrrdy
two hour wait did de-romanticize the experience. Next time I will give out blood donor forms to everyone in the queue and watch them run...
MUAhahaha
Sidenote: Yay! Obnoxious Gazillionaire Joe Bennett is back on Lipstick Jungle. Wasn't buying the whole Rodrigo The Contractor / Single Dad deal. Eck.