We walked into Prive Bakery Cafe, thinking 'Hey this is so Marmalade!'
Beige wooden furniture aside, the menu with items like Ricotta Pancakes and Wagyu Burger screamed "As Seen in Marmalade" too.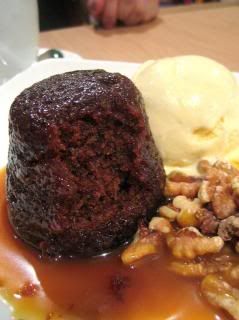 And like Marmalade Pantry, their sticky date pudding with vanilla pod ice cream was to die for. The datable pudding was a porous spongy device that served one simple but worthy purpose - to absorb every drop of butterscotch sauce.
The only difference was an addtional spoonful of walnuts served on the side, somewhat resembling a desperate attempt to differentiate themselves from Marmalade Pantry.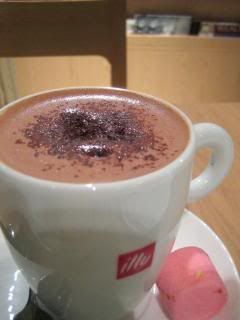 Made with Varlhona chocolate, Prive's Signature Hot Chocolate was madly rich, though in a throat-scratchy sense. We weren't hot about the pink marshmallow as there was something visually odd about mixing girlie pink and mahogony brown. Had it been a white marshmallow, HO! We would have dunked it into the hot chocolate right away and made a mess stirring it through.
The ambiance at Marina at Keppel Bay was really awesome and Prive Bakery Cafe seemed worth re-visiting.
Oh Singapore, you're so cool!