If you have read this blog long enough, you would realise that I blog multiple posts about the same place in a matter of few posts. That's because I'm 'tried and tested' the place and deemed it 'good enough' for my family, in particular my dad. Seriously, if dad had been some emperor in his previous life, I must have been his humble servant, the royal tester.
One Sunday evening, I staked my reputation as Ms SuSHE-Know-It-All on Kaiho Sushi and introduced my family there for dinner. We had the Kaiho Dinner Course, which consisted of everything from the raw to the fried and grilled.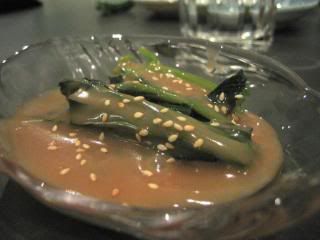 Our appetizer was a simple dish of spinach that had been blanched and dressed in miso-peanuty sauce.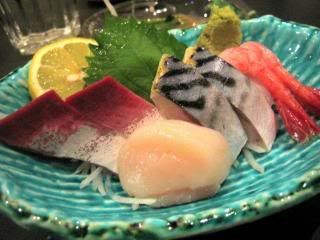 The sashimi consisted of some incredibly hamachi, mackerel, amaebi and hotate. It was my first time trying mackerel sashimi and it had a natural slightly fishy taste. None of that 'where have you been all my life?' moments. These are not typically sashimi that would make my heart go hubba-hubba but I'm beginning to see the big fuss with amaebi.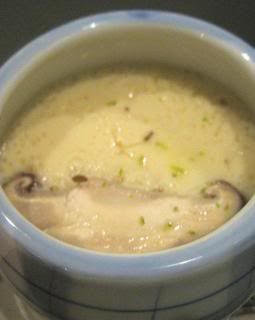 Chawanmushi is something my sisters love but a dish I have never lavished much attention on; but the tiny cup of chawanmushi dusted with yuze rind earned mum's praise.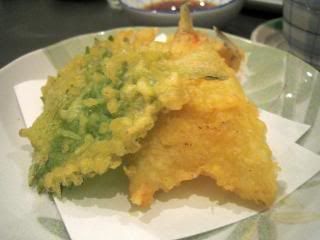 The kisu tempura arrived hot, which I like very much because lukewarm tempura is just wrong. As wrong as Crocs sandals and Sarah Palin.
Sushi Maori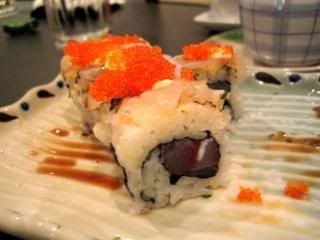 Special Maki
Also part of the set, Yang and Dad had the sushi maori while Mum and I had the special maki. Depending on the Chef's mood, the special maki usually differs from time to time and our special maki was an unexpected hamachi-filled, tobiko-and hotate-topped maki. And yes, it was ABURI-ED.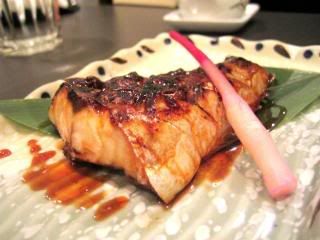 We had the saba teriyaki, instead of salmon teriyaki as the latter was sold out. This was all the better as we prefer the musky oily grilled saba.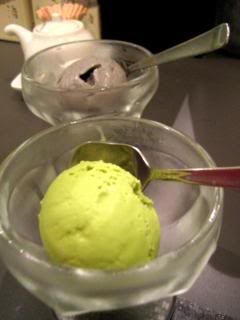 Along with our set dinners, we also had the aburi salmon nigiri, aburi california maki and aburi softshell crab maki. It was Aburi Indoctrination but I realised I like aburi more when it's torched on raw fish, as opposed to cooked stuff like soft shell crab. Reason being that the beauty of aburi lies in its contrast between the smokiness aura and sweet squidgy insides.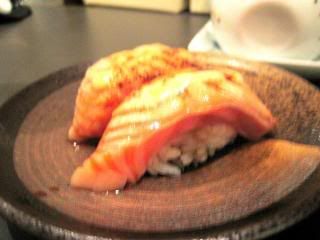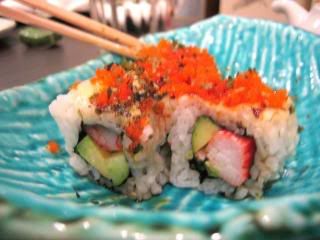 Yeap I do realise that these newfangled rolls may make sushi snobs beat their chests and convulse in horror. However there was something about Kaiho's aburi sushi that made me forget about straitlaced tradition.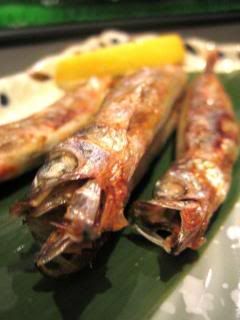 We had an addtional plate of grilled shishamo as well. If you haven't had shishamo before, they are knocked-up fishes and a hit with lazy people as you can eat them whole. Technically you can't stuff the entire fish into your mouth because you either look plain immature or suffocate to death, which really isn't going to earn you any sympathy since you are acting immature to begin with.
It was a quiet Sunday evening at Kaiho Sushi. Sometimes, I feel Chef Bernard deserves more recognition, but on the other hand, I like the easy-going vibe of the sushi restaurant, which would be lost to crowds of people.