After our renovations were 95% done (5% because my dad absolutely hates the bay window so we could be ripping that apart soon), my mum invited some family friends over for dinner. My mum had always wanted to invite our family friends over, and changing our sofa set and fabric covers seemed like good enough reason to celebrate.
We've got new cushion covers, come celebrate with us!
Hallmark should make cards like these... Or maybe Edward Monkton huh?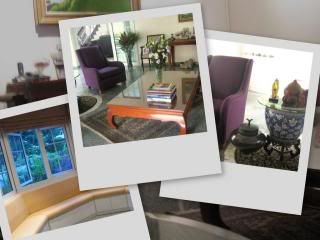 Anyway since our guests were fine cooks themselves, we decided to KISS by preparing a menu that revolved around prawn noodles.
All afternoon, my mum was checking on the soup, boiling the spare ribs, braising the duck, shelling prawns, wrapping dumplings... My sister did the flower decorations and I whipped up quite a sweat setting the table. I can so see some Singaporean guys mentally striking people like me off their list
"Can't cook... Can't clean... Must book trip to Vietnam"
Basically we operated on Have It Your Way mode - one could choose from yellow noodles, flat yellow noodles or thick bee hoon; then add the condiments- prawns, spare ribs, fish cake, kang kong, bee sprouts; and enjoy with fried meat dumplings and braised duck.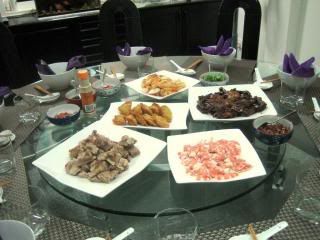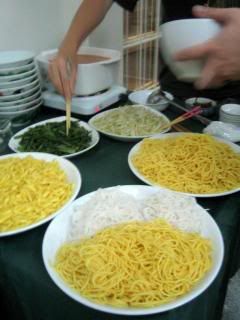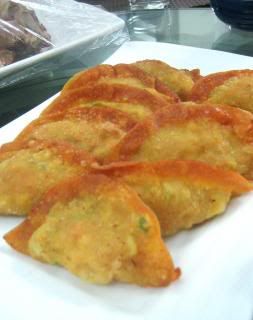 I heart the dumplings made by my mum, made with minced pork, chestnut, spring onions and a whole bunch of seasonings that she measured using 'gut feel'. We normally throw them into our steamboat pots, but this time round, we deep-fried them dumplings as appetizers. I should probably get to know this recipe as it may increase my marriage desirability quota by 25%.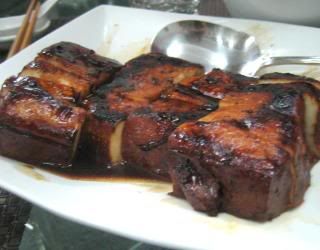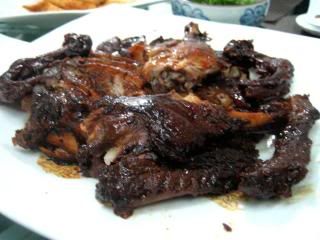 No need for dating agencies or matchmakers, just learn how to make dumplings. Yeah
freakin'
right.
And if dumplings don't work, the braised duck might. It should have been Prawn Mee's night but the braised duck stole the show (for me). I lucked out as it was put in front of me on the dinner table (or did i choose to sit in front of it?); and spent the entire evening giving new meaning of public display of affection.
My assembled bowl of prawn mee- with a duck drumstick thrown in for good measure.