Le Nicolas? Like seriously…? It's been so been there done that, so last-press-release!
Oops. Well sor-ray, I've never been an 'early adopter' so chasing after the coolest chicest IT-tery ('IT' + eatery, gettit?) has never been my forte.
Le Nicolas was clearly doing well on a weekday afternoon, perhaps too well for the kitchen to handle as our main course took a considerably longer time to arrive; and it seemed like they were preparing a banquet as almost everyone's main course arrived at the same time.
a trusty toasted roll to accompany our long wait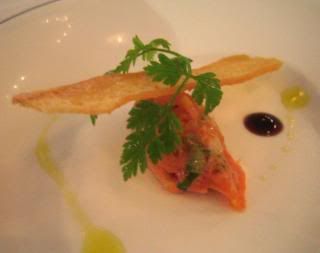 Before that, we had an amuse bouche- marinated salmon with crispy bread that hinted of the kitchen's ability to produce praiseworthy food.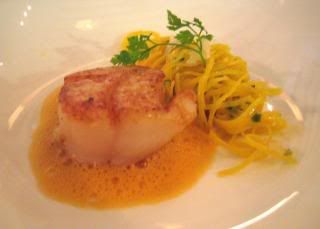 The scallop was perfectly seared, retaining a plump texture and nudging sweet essence. I had no idea what Bavetine pasta was but the wound-up roll of al dente flat pasta was good, and a smidgen of langoustine bisque emulsion was all it took to loosen its tight strings.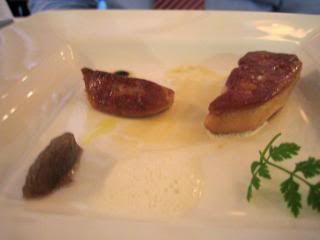 The pan roasted duck foie gras was served with a marmalade of eggplant, vanilla and cinnamon and aged blasimic vinegar. I thought it was excellent. The foie gras "mooshed" (I can't think of a more accurate way of describing its texture) effortlessly in my mouth, releasing a strong gush of unmistakable fragrance.
That was really not the best time to question my moral bearings.
It was one of those intense moments where you hit the 'mute' button on everyone in the room as you can't afford to distract yourself from the sheer decadence.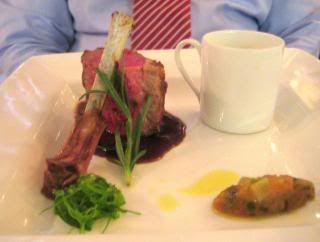 The kitchen had a way with meats too as our mains were both pan-fried and roasted flawlessly- bronze on the outside but tender and pinkish within.
If you are particularly anal about the origins of your meat, you would be happy to know that the slow roasted lamb tenderloin is from the fields of Tasmania.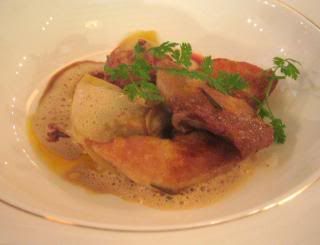 As soon as I saw roasted French quail on the menu, I knew immediately
I gotta have it
. The thing is I keep forgetting quails are small birds to begin with and sans feathers and bones, it is
one heck of a tiny bird
. The quail hardly filled my tummy but it was no fault of neither chef nor bird, but my foolish fetish for game birds.
Nestled below was a paper-thin ravioli filled with foie gras and morel mushroom, draped in mushroom sauce bordelaise. I was knocked left-right-silly with the heady aroma of mushrooms and foie gras, but despite my mini-headache, I couldn't resist dapping the bread into the sauce.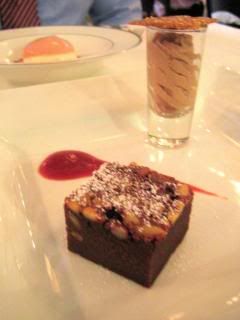 Desserts were a mixbag.
The chocolate croquant was a letdown. The brownie was un-outstanding in the sense of being outstandingly dry and starved of chocolatey-ness.
Maybe it's my tastebuds. You know, after the foie gras and mushrooms… Maybe it's the coffee that killed the taste. Maybe I should stop making excuses for it… it was one not-very-good brownie. I didn't even finish it. That tiny slice- that was how bad it was.
The chocolate mousse fared better. Slightly. Just marginally. The only difference was I finished it. However the sesame seed toffee brittle was brilliant. It was sweet but packed with toasted sesame fragrance and it cracked ceremoniously, making it the only highlight of my dessert plate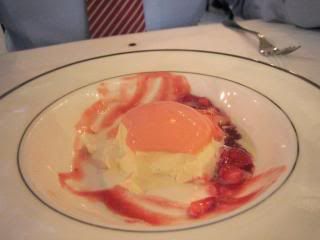 The citrus panna cotta was a thing of beauty. I've never liked panna cottas, thinking them to be one-dimensionally milky-tasting. But the panna cotta we had resembled a beautiful orb rising from the strawberry ashes. It was delectably silky with slips of citrus flavour.
I can't say lunch at Nicolas Le Restaurant was disappointing because the appetizers and main courses were very good; but the chocolate dessert and long waiting time were turn-offs. To be honest, the complimentary chocolate pralines that accompanied the bill were much much much tastier. I thought it was funny how madelines were served along with the bill and pralines, then I read it's one of Daniel Boulud's trademarks. Hmmm, so is this a Boulud-inspired endowment or some French tradition that I'm not aware of?
Something to think about.