The ill-frequently updated Ladies Who Lunch column is here again. Although this is usually a strictly femme affair, 'LADYironchef' qualifies as one due to its self-explainatory blog name. So you are a guy called Mary Jane or Poppy Daisies, you will probably welcomed on this column- heck, I will write a blog post just for your name.
I had been craving for dim sum ever since LadyIronChef and I decided to meet up for dim sum lunch at Wah Lok. Since the more the merrier, I put together the most random group of people who could pop by for lunch spontaneously.
Diana, my sister yang, Brad and myself. Too bad Gerald couldn't join us last minute.
According to random online reviews, Wah Lok at Carlton Hotel seemed like a dependable spot for dim sum. Dim Sum truly resonates with my dining philosophy: A little bit of this, a nibble of that and a little pork fat never did anyone any harm- unless you've just had heart surgery.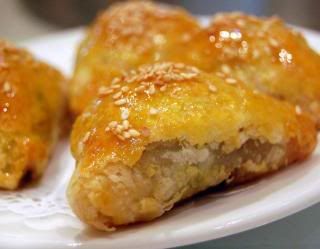 I absolutely adored the char siew soh, where the buttery flaky pastry pulled away effortlessly to reveal minced char siew. It might just be eggwash but I'm a sucker for the golden surface gloss.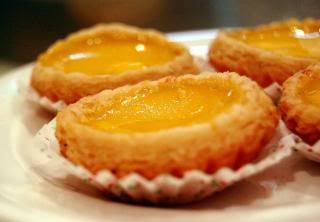 Wah Lok's famous egg tarts featured curdle-ly but smooth egg custard encased in puff pastry. I could have polished off all four easily but noone would join me for lunch again.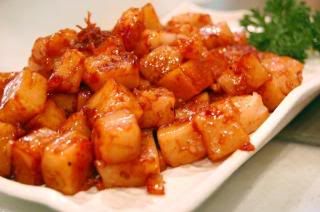 Since they don't serve pan-fried radish cake, we tried one of their signatures, the turnip cake fried in XO sauce. XO sauce, hmm was it suppose to evoke one of those 'ooo special sauce…must be delicious' reactions? I don't know but it wasn't really impressive. No doubt it was tasty (hello, sweet and pan-fried, duh), but I think they should start serving pan-fried radish cake.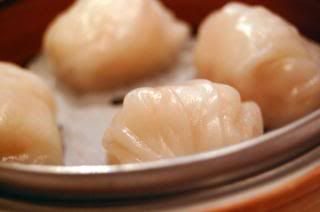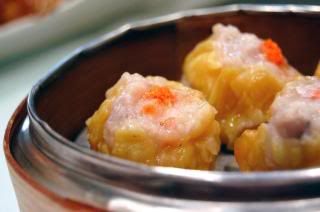 We also had the
de riguer
har gow and siew mai. I don't know about you but whenever I have dim sum, it's always both or nothing- either we order both har gow and siew mai or don't order them at all. It's like the Unity of Bamboo Steamers vs. Gorgeous Baked/Fried Tasties. The har gow and siew mai were not bad and I say this because anything steamed is always a tier below that of baked or fried'.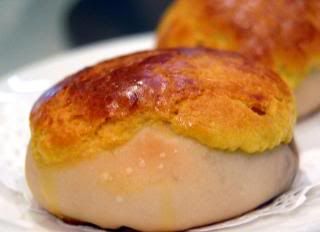 We also had the baked BBQ pork bun, the love child of char siew bao and bo luo bao. It was good but being baked and stuffed with char siew meant it was 'set for yum-success!'. Pretty much like genetic engineering.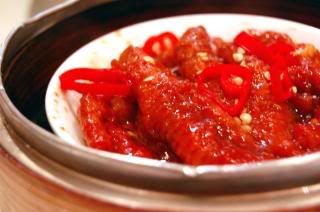 Digging into feet and spitting out the small bones … If I had kept up a relatively glamorous facade before this post, it would soon be shattered by the arrival of the next dish- steamed braised chicken feet. But it was worth it.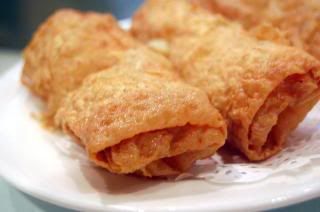 Our last dish was the deep-fried beancurd skin with shrimp. You know how typically you would get more beancurd skin than prawn and the soy-ness of beancurd skin pretty much sums up what this dish usually tastes like; not this one though, the beancurd skin was more of a thin fritter that preserved the sweetness of the prawns.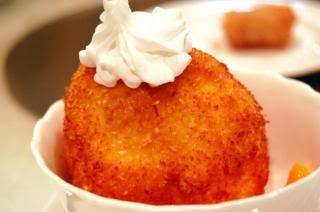 For dessert, we had the fried ice cream because common sense would have it that anything deep-fried is close to fabulous and ice cream, well I don't think I need to harp on my love for ice cream. Instead of your usual tempura crunch-fest, a thin desiccated coconut batter coated the pedestrian mango ice cream. The dessert was pleasant enough but it wasn't something that would knock the socks of anyone.
All in all, dim sum at Wah Lok was pretty good. Too bad I has to rush back to the office but thanks for joining me for lunch guys. Oh yes, the lovely pictures were taken by LadyIronChef.
I can't think of a more appropriate time for a bit of shameless self-promotion. Here's an article I wrote for Asian Food Channel:
Midnight Munching in Beijing