Admittedly as a kid, food was always about quantity, rather than quality. I was a pudgy kid with huge guts - in every sense of the word. The word 'diet' was only introduced much later on and parents, really you shouldn't be asking your kids to go on diets - it hurts the kids more than you know it.
Fortunately and unfortunately, my mum was one of those who thought
her kids could never have enough to eat
... nope, not even a membership in the TAF (Trim & Fit) Club could convince her otherwise. Hence it was the perfect balance of give-and-take: she gave, I took; she fed, I ate.
I remember when I was a kid, we used to frequent Princess Terrace at Copthorne King's Hotel for their well-regarded Penang Buffet. I love buffets. It brings out the competitor in me, er, the compulsive competitor eater that is.
The cafe / restaurant was unsurprisingly busy and but surprisingly full of office executives - all of whom were bound to slip into distressing levels of post-meal unproductivity.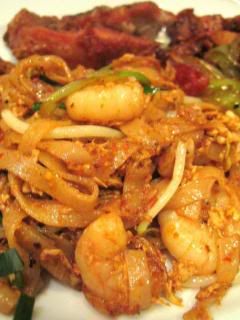 For me, I revisited my childhood memories with multiple servings of Penang Char Kway Teow. Vigorously stir-fried in the wok with prawns and lup cheong, it was incredibly fantastic. You should just stand by the semi-open kitchen and watch the cook refine his skills, by whipping up batches and batches of this classic favourite.
With such a high turnover rate, it wasn't surpringly to see diners hovering close by eagerly waiting for the next batch of Char Kway Teow. Each time I walked past the hot food section, I tell myself to try something new but I never fail to leave some space on my plate for the Penang Char Kway Teow.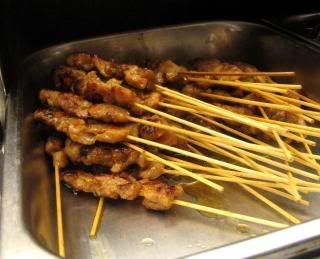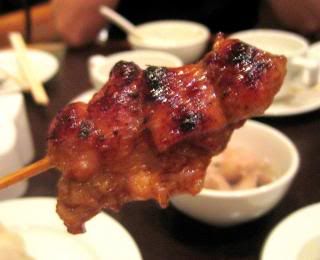 The satay was also a real heart-breaker. I never take satay elsewhere because most of them are usually dehydrated chunks of diced meat which have spent too long on the barbecue. However, the satay here is awfully tender, imbued with sensational smokiness. No peanut sauce needed - that is how good the satay is.
Whoa, the amount of satay and Penang Char Kway Teow I had here was enough to rival Michael Phelp's daily calorie intake. No kidding.
The Penang Laksa was pretty good too as it wasn't too sourish.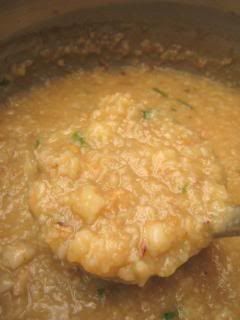 It was first at first bite for Yang and the Char Moey. This was pretty interesting as I have never had stir-fried porridge. Just imagine porridge with a slight charred aftertaste. Hmm maybe it doesn't sound that exciting but she loved it anyway.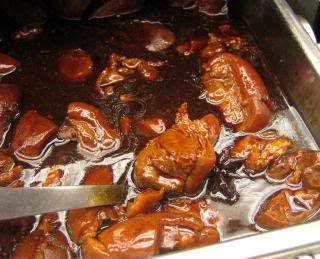 As for rest of the hot food section, I ignored the curry prawns and stir-fried pork belly with leeks and made my way towards the braised pork knuckle with soya sauce and curry chicken.
The braised pork knuckle with soya sauce, collagen-ridden skin attached, had evidently been braised long enough.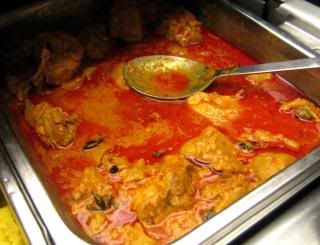 I would have moved past the curry chicken, had the aroma not grab me by the reins. It was good but I found truly gratifying to drizzle the curry gravy over sweetish turmeric rice.
And I washed it down with a bowl of lightly-flavoured Too Thor Thng (pig's stomach soup).
Among the 'So-so, Can Dos' were...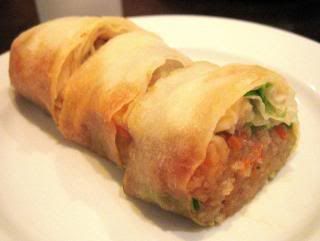 The popiah which lacked the oomph ... prawn mee soup that was way too sweet for my liking ... the sad weak rojak sauce ... and prawn-paste chicken which was too throat-scratchingly dry (great crispy chicken skin though).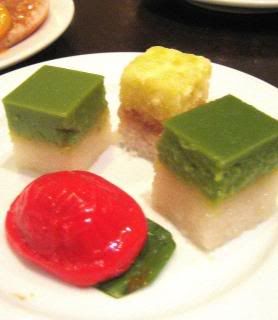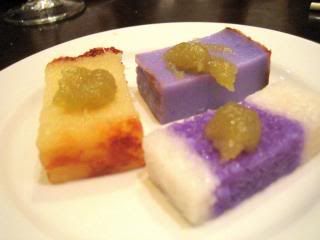 For dessert, you can create your own chendol or ice kachang but I zoomed in on the array of Nonya kuehs. If you are allergic to egg and milk, look away now for the pictures alone may give you spasms.
You can find ang koo kueh with peanut stuffing, kueh salat (glutinous rice cake with green egg custard), pulut tai-tai (blue-dyed glutinous rice cake, usually taken with kaya), kueh bengka ubi and others which I don't know the name for.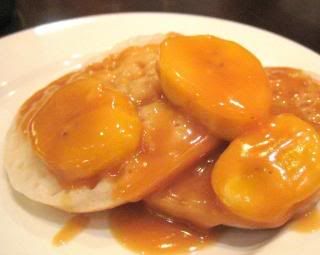 There was this rather interesting dessert, a porous pancake disc called Apom drenched silly in thickish banana sauce. Kind of made me think of it as Asian-style banana pancakes.
They also had homemade soya bean curd which of course wasn't 'Rocher' material but pleasant enough with gula melaka.
All in all, some say Princess Terrance might be stuck in 80s/90s time warp but for me, it was a great trip down memory lane.