Nothing describes the importance of context more aptly than Bakerzin at Paragon.
On my own or with friends, Bakerzin is not somewhere I would choose to spend my time or dough. To me, it has several things not exactly going for it.
It has an identity crisis- It is a French pastry / dessert cafe that offers Japanese-infused local dishes such as ramen and braised pork belly. Go figure.
Its supposedly-signature cakes and desserts borderline on so-so...
Isn't this part where I start to swoon? Nope, no reaction there.
Ok, I know I'm really nit-picking here but the openness of the adjourning sitting area kind of bugs me too.
However when a good friend Zee suggested Bakerzin for dinner, I dropped my initial hesitations and sped over as soon as I ended work. Although I still have my reservations about their hot meals, their cakes offer a glimmer of hope.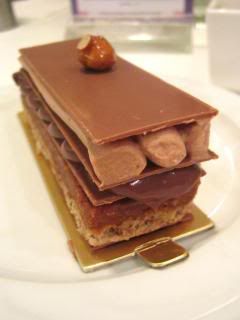 Sweet Pleasure
Out of all the cakes, I enjoyed Sweet Pleasure the most. A respectable copy of Pierre Hermé 'Plaisir Sucré,' the layers of hazelnut praline dacquoise, Jivara milk chocolate ganache and chocolate mousse met to create an interplay of crisp-smooth textures. For me, it reminded me of Nutella with rice crisps- which is never a bad thing.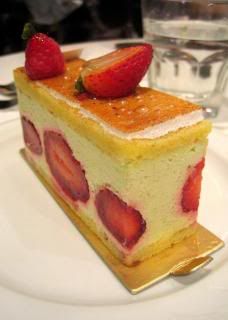 Strawberries halves studded the pistachio butter cream, bounded firmly by two thin almond sponge sheets that had been soaked in strawberry liquor. The Fraisier was interesting as the nutty scent of pistachios cushioned the tanginess of the strawberries.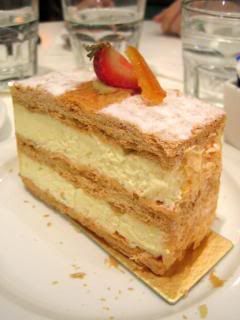 The Mille Feuille is a puff pastry classic filled with vanilla custard cream.
Imagine water split over a thin stack of papers and -horrors- the papers get 'glued' to each other. That was how the puff pastry felt like though you have to pretend paper is edible in the first place. What I'm trying to say is the puff pastry films were clamped tightly to each other, missing out on the lightness and 'shatter' effect.
Still it was a messy pastry, loosing its pretty darlingness as soon as the forks dived in.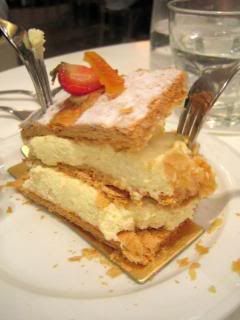 Taste-wise, it was alright. The custard cream could have been more mousse-y... The vanilla scent stronger... it might have been less than heavenly but I still finished up whatever is on the plate. Sigh, when it comes to pastries, there is no such thing as a 'pause' or 'stop' button in my system.
No blowing out of candles or Olympic torch to light but Zee, the birthday girl had the honors of piercing through the molten chocolate cake.
The first glimpse of oozing molten chocolate never fails to make me smile. I believe I might have my first molten chocolate cake at Bakerzin years ago and to give them some credit, it is still incredibly pleasurable. Yes, this chocolate dessert may be ubiquitous but I would be mad to dismiss it on grounds of that.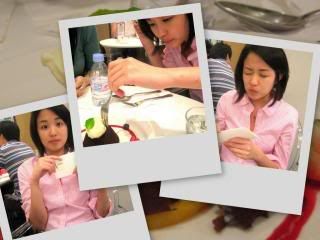 the birthday girl
Maybe I was in an exceptionally good mood... Maybe because it was Friday... Maybe I was blinded by the good company of my girlfriends but Bakerzin was better than expected.