I left Nadaman ravenous.
Everything was prettily presented but the portions, oh the portions! It felt like being put on Nicole Richie's diet, even though I'm sure new Mummy wouldn't touch the rice.
After lunch, Yang and I practically marched down to Marmalade Pantry to get our sweet fix. I toyed with the idea of getting something more substantial like their beef burger but my sweet tooth eventually convinced me otherwise- and I pretty much do whatever my sweet tooth tells me to do.
For the benefit of Yang who is a Marmalade-Pantry-Sticky-Toffee-Pudding virgin, we ordered that and a chocolate truffle cake because I could feel the hunger-induced dizziness set in so I needed chocolate fast.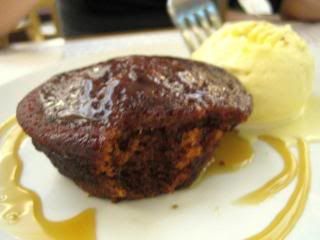 I don't Yang would ever be able to look at the sticky toffee pudding the same way again. It's quite a curse really because once you've had this sticky toffee pudding, nothing esle ever quite measures up. Other cafes may try hard to replicate something similar or yield their own creation but the truth is no other pudding would be able to substituting this warm toffee-soaked sponge cushion, which tastes almost insane with vanilla bean ice cream.
Marmalade's slice begins and ends with chocolate.
Like the Gettys and Rockefellers of this world, it cries, 'Don't hate me for being rich'. It is huge enough to share between two, which is
purrrrfect
if you are on The Atkin- no wait, Aiken Diet.
It is a statement on its own, punctuated with an exclamation mark. If you have never had chocolate truffle cake before, I say get acquainted with it (and fast) at either Cedele Bakery Depot or Marmalade Pantry.