Sv. Michelsen Chokolade
Among the many sweet somethings, Denmark is probably most well-known for their pastries and cakes. Not many know that Denmark has chocolatiers too. Anthony Berg, Peter Bier, Sv. Michelsen ... Just to name a few.
These chocolatiers aren't as reowned those from Belgium or Spain, not that they aren't good but perhaps Danish brands haven't traveled as far, or at least to my part of the world at. 'Purveyor to the Danish Royal Court' since 1992, Sv. Michelsen Chokolade has the seal of approval from the Queen herself. My sister and I tried 2 different chocolates from the established chocolatier.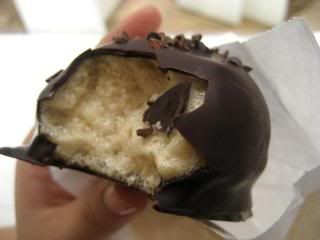 Mocca flødebolle- Mocca flødebolle med kaffeskum og ristet cacaonøddeskal
We had a Mocca Cream Bun, coffee foam encased within a roasted cacao nutshell. It would be interesting to find out how the roasted cacao nutshell structure holds up its shape.
Tiramisu stang- Trøffel, hvid trøffel, Kahlua, mocca, og bitter cacaopulver
We also shared a Tiramisu Rod, milk chocolate truffle and white truffle, infused with Kahlua and mocca, dusted with bitter cacao powder. Normally I don't take tiramisu because of the alcohol but this chocolate was good because I could barely taste the Kahlua.
By the way,
Google Translator
has been real helpful in translating the Danish pages.
Sv. Michelsen Chokolade
Available around Copenhagen
Lagkagehuset Bageri & Konditori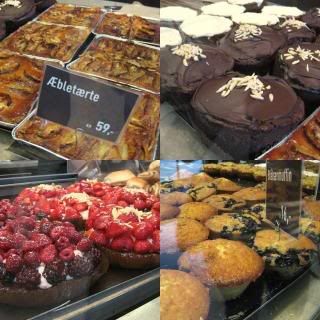 After settling down at our hotel, we walked into the Wonderful Copenhagen Tourist Information Bureau and found an extremely chic café, Lagkagehuset Bageri & Konditori. The interior décor was minimalistically sleek and accented with pendant lamps.
Lagkagehuset offers
typical Danish pastries
, sandwiches and bread. As the cookies from Millie's Cookies that I had a couple of hours earlier at London's Stanstead Airport were still kicking in my veins so I wasn't in the mood for anything sweet. However, it's a great place to get acquainted with Danish pastries, as it is close to the city center but excused from the crowds.
Lagkagehuset Bageri & Konditori
Their Christianshavns Branch:
Torvegade 45
1400 København K
Cakes from Copenhagen Airport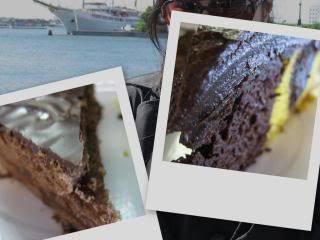 We wanted to use up our kroners but we didn't have enough cash for Starbucks. Can you imagine not having enough cash for Starbucks? Well it's entirely possible especially since each frappuccino cost at least 40krs, which is about S$11 and US$8?! By the way, Starbucks opened its first café in Scandinavia in Copenhagen Airport in early June 2007. Hmmm, I wonder why they took so long to penetrate Scandinavia.
Fortunately we had enough for cakes. Not one but two cakes. Haha. The intense chocolate brown caught my eye but urgh it had raspberry folded within. I like fruit, I like chocolate but just not together. Except maybe if it were chocolate fondue. The brightly hued yellow-and-brown slice fared better but it was just an ordinary pound cake with chocolate frosting. How disappointing.