Toscanini's- Ice Cream for Intellects.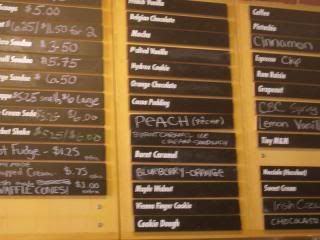 On our way to Havard (like Dorothy on her way to the Land of Oz), Edward and I stumbled upon Toscanini's on Main Street. From the outside, the exterior looked like another geek-friendly coffee place or designer furniture shop ala Design Within Reach. But the words "The best ice cream in the world - New York Times" printed on the lower right hand corner of the store front whispered, "
enterrrrrrrrrrrrrr
".
"Ooo ice cream place!" I said to Edward, in my best Judy-Garland-as-Dorothy voice.
"Do you want to have some?" he replied, like me, choosing to forget that we had just polished off a pizza about an hour ago.
"Well... let's just check out the flavours, shall we?"
As if.
As soon as we stepped, let's just say I knew it was going to be good. The ice cream flavours sounded intriguing without being OTT and the ice cream looked unapologetically rich.
"Just a sample..." I was seriously tempting fate.
It all happened so fast... Before I knew it, I found myself clutching a sturdy waffle cone, topped with burnt caramel and hydrox cookie (kosher oreo).
It was marvelous, as good as it looked or sounded. It was glide-on-your-tongue creamy and uncomplicatedly enjoyable. It was awesome awesome awesome. It was "oh man, i can't get this in Singapore... WHYYYY?!!"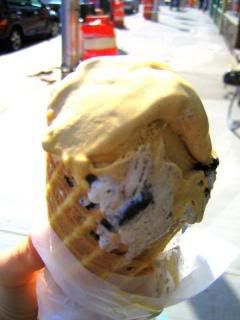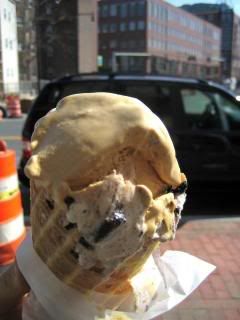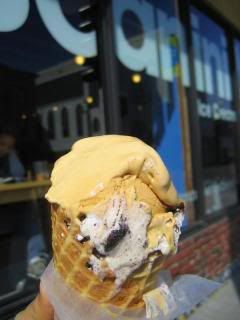 Ok, now I look like one of those crazy mums who takes 400 odd photos of their baby's first day out.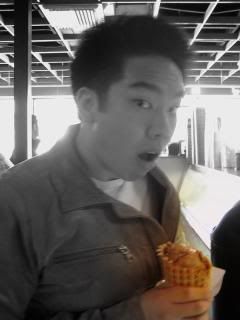 Edward and his orange chocolate ice cream
Should I even be surprised that I found the best ice cream in Boston- the city that consumes the most ice cream per capita, square foot and household in the whole of America?
Although Toscanini's is frequented by Harvard and M.I.T. students, you don't need half their IQ to know this is one awesome chill treat.
Toscanini's Ice Cream and Coffee
899 Main Street (Central Square)
Cambridge, MA