The pizza should be the only thing cheesy on a date.

There I said it and once again, thrown myself at the mercy of half the population.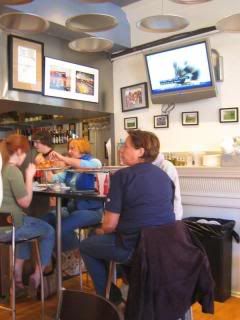 Edward and I hobbled down to Upper Curst, a Boston-based pizza chain, on Newbury Street for lunch. Despite the fact that the pizza-box-sized eatery was packed with the young and the young at heart, that atmohsphere was considerably calm, people were still well-mannered and considerate. That's Boston for you.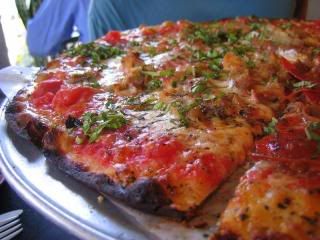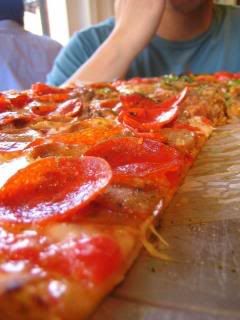 There were many specialty pizzas to choose from and We had The State House and The Newbury. I was thrilled we could do the half-this-half-that option… OOO democracy, freedom of choice…Toto, we are in America!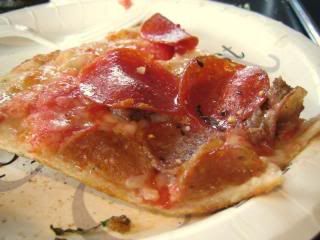 "Created for the meat lover", The State House, hamburger, pepperonni and italian sausage scattered all over fresh mozzarella, was a peace offering that one made before embarking on that detox-cabbaage-south-beach-blood-type diet.
Not to be outdone, The Newbury, topped with breaded-and-deep-fried veal scallopine, fresh mozzarella, marinara and basil, joined in the send-off party.
"AYE CHUBBY, pizza not fattening enough for you, you gotta get fatty meat and deep-fried stuff on it too?"
Shush. I'm on a holiday.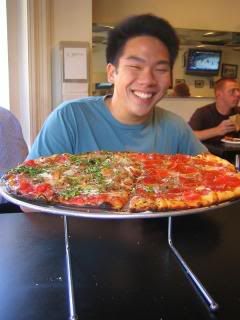 I loved how the pizza was served on an elevated stand as if it had been raised on higher divine forces. Next thing I knew, the pizza had sparked off a spiritual aura, a self-healing light that drew me closer and closer, as if to whisper the words…
"I'm delicious… You are getting sleepy… so sleepy…"
I refused to snap out of my pizza-triggered hypnosis.
Thin, cheesy and packed with oomph, I was filled with such sadness for a while, knowing that I would be deprived of this once I'm back in Singapore. In fact, it's ridiculous that I've been introduced to such awesomeness many times over on this trip but would have to settle for not-enough-cheese! pizzas once I'm back.
I'm going to observe a moment of silence once I'm done. For now, please ignore the funny 'MMM' noises…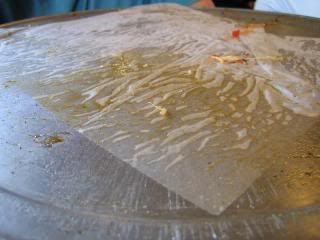 It's that good.
Upper Crust Pizzeria
222 Newbury Street
Back Bay, Boston, MA 02116
Phone 617-262-0090