1. Semi-addicted to Sudoku (ok mum I admit it!). Well I guess I could think of worse things to get hooked on. It's not like I'm
Bringing Sudoku Back
but I'm Three-Stars-going-onto-Diabolical! Give me some credit.
2. Getting 7-8 hours of sleep every night. Not fun if you wake up at 8am every morning.
3. Research for London & Copenhagen. Our Singapore Tourism Board could take a leaf out of
Visit London website
because so far the only thing unique about Singapore is how we haven't voiced our dissent or acted against rising fuel prices.
4. Catching up on my sitcoms. Ugly Betty. Cashmere Mafia. Gossip Girl. 30 Rock... thanks to youku.com and tudou.com.
Love Jack and Amanda from Ugly Betty. The funniest gay-best-friend-and-bitch-with-issues combi since Jack and Karen from Will and Grace. See how gay guys are always funnier?
Compared to 30 Rock, Gossip Girl is quite blah-boring. With brouhaha bigger than Anya Hindmarch's I'm Not A Plastic Bag launch, it was disappointing. Like the idea behind the bag, the show's content seemed recycled from other high school dramas. Rich kids + Love and Parental Problems = Please take a hike to any developing economy.
30 Rock, on the other hand, is GENIUS.
Really.
My favorite episode is episode 14 from season 2.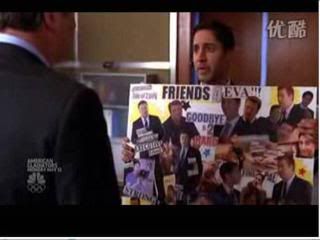 Jack gets kicked out of his office and banished to 12th floor and his former assistant Jonathan makes this 'FRIENDS 2EVA' collage for the guy.
Liz's ex-boyfriend returns and she tries hard to convince him she's doing better than ever. Her friends help by orchestrating the perfect meet-up scene with some wind-blowing-in-hair effect.
Freakin Fabulous.
The ladies from Cashmere Mafia is the latest quartet to hit our mini screens. I like it more than Sex And The City and it's not because they have all the hair colour covered... or that Lucy Liu as powerful publisher honcho is in it... It's going beyond the whole 'looking for love' theme and more (gawd, I so do not want to say this) 'Girl power, I want it all'. The pilot episode alone had me nodding in agreement on the sacrifices women have to go through to be successful. Cashmere Mafia is must-watch for any femme climbing the corporate ladder in stilettos and single-handedly because she can't let go of her Hermes Birkin.
With two, you get Frenemies like Serene and Blair; three- you could form a girl band ala Destiny's Child but it could get messy when people take sides; and four- the magic number for lunch-cocktail girlfriends (gays included)... ever wondered why mahjong tables are particularly gossip-friendly?
=) Just asking.