Cedele Bakery Depot at Wheelock Place reopened this June with minimal changes to the layout and an expanded menu. Most of us would know Cedele's USP is organic, trans-fat-free grub, free of artificial flavourings and chemically produced additives. Well, basically if you live on the Cedele Diet, you might just live to see your great-great-great grandchildren... that is if your children, great grandchildren and great-great grandchildren don't drive you to your grave first.
Then again it seems too good to be true, doesn't it? Healthy food that tastes great? Hello, some of us were born yesterday? Cedele's carrot cake (complete with cream cheese) is easily the best in town and their kickass chocolate truffle cake had me thinking, 'good for me? Er, I believe you... almost as much as I believe in natural beauty!'
However rather than accuse them of being 'Liar Liar, pants on fire', I'm all for self-delusion so long as there isn't permanent damage.
I wanted something different. Something other than their soup and sandwiches. Something I couldn't find in any other Cedele cafes.
The savoury pancakes section waved its 'Come Try Me' flag at me and I found myself drawn to the mushroom and bacon pancakes. The pancakes arrived, unlike anything I had expected: studded with spring onions and button mushroom silver, served with bacon rashers and salad.
It was ok (not mind-blowing but edible) and awkwardly familiar. Lo and behold, it suddenly occurred to me that they tasted almost like the scallion pancakes my grandmother makes, only with mushrooms. Curisoty didn't kill the cat but it sure left it hanging.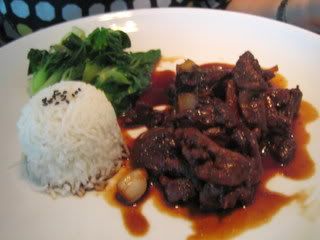 Mum had the caramelised pork, served with bak choy and an ice cream scoop of rice. I'm hopeless at describing Chinese food so I can only say it tasted like good sweet braised pork.
Oh yeah, another thing to note: portions left us peckish an hour later.
I should have known that 'Adventurous' isn't my middle name and sometimes there is a reason why that rusty but trusty formula works.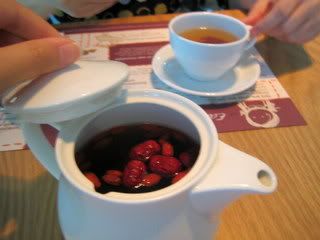 We washed down brunch with wolfberry tea with red dates and longan, essentially 'cheng teng in a teapot'.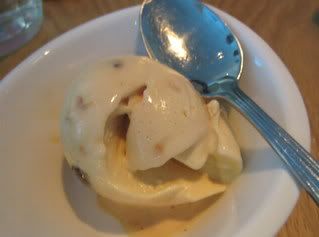 We fulfilled their Terms and Conditions and were given a complimentary scoop of Earl Grey and Fig ice cream. Eggless but utterly addictive. Begone Burnt Caramel! Earl Grey is THE Flavour of the Month.