It might have been the Father's Day weekend but with Dad away on his golf trip, Mum and I shared some Oyaku time with nosh and interior design.
We did brunch at Barracks Cafe over at Dempsey Hill. Now apart from PS Cafe, I'm not familar with the Dempsey terrain but I saw the allure of Dempsey- a piece of Singapore free from life's daily worries. There were many brunch options at Dempsey but I passed on PS Cafe (too much see-and-be-seen going on), Culina and Jones The Grocer (to visit next).
Save for a table of Girlfriends On Brunch Patrol, Barracks Cafe was thankfully somewhat empty. I liked the haphazard interior design with mismatched chairs and hanging naked bulbs and almost fell for the 'Greenhouse,' a private dining room.
As we weren't all that hungry, Mum and I shared the Old-fashioned American Sliders, a good put-me-together with ciabatta bread, respectable beef patty, cheddar cheese and bacon.
It was a sizable menu with alluring options but what committed me to the sliders were the sides- sweet potato fries and truffle fries. The chunkier sweet potato fries bore a batter-film while the shoestring fries lapped up heady, whoozy tuffle aroma.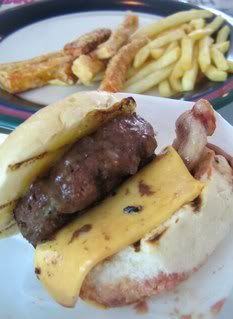 Oh I know what you must be thinking... Fries with truffle oil? Very
Dirty Sexy Money
. Urgh, ever since I started watching these New York Upper East Side dramas, I've been besotted with truffle. Don't get me started on the Grilled Cheese Sandwich with Truffle from Gossip Girl!
Our drinks? The Caring Carrots juice, a blend of carrot, apple and beet, for me while I opted for the Femme Fatale, a elderberry, coconut and blackcurrant tea.
After brunch, we roamed around the Dempsey Cluster for a bit before heading over to Design Intervention at Loewen Cluster. Fabrics and textiles of various prints, patterns and price tags, available for customization- this was my I-Dream-of-Domino-Magazine wonderland. I could finally rid myself of those mass-produced lamp shades and quilt covers! I almost went mad with delight.
After Dempsey and still high on interior design, we drove to Chip Bee Gardens. We popped by Cho Lan's and found it practically empty. Ok, save for a few cushion covers, it was almost cleaned Out.
Cho Lan, which I'm sorry to report at time of publish, has closed for good.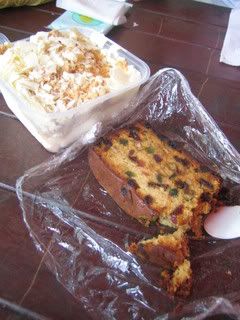 By then, I was hungry. Making a pass at Da Paolo Gastronomia was a no-brainer. The fruit cake was generously studded with dried fruit, while the white yogurt crumble (my must-have at Gastronomia) was a triple-layer sensation made of brittle crumbs, luscious tangy yogurt and grated white chocolate.