cedele at raffles city.
before marketing meeting, diana and i had lunch at cedele.. oh boy, it has been a while since i last looked forward to those one-hour moments of solitary peace at cedele during my internship.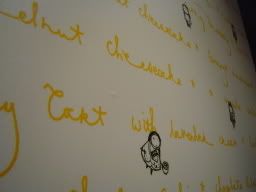 rosemary chicken sandwich which diana had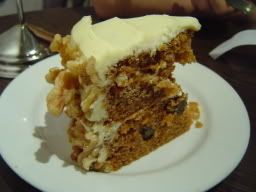 walnut and carrot cake. *drumroll please. unlike coffee club's, the carrot cake is light&loose, unbelievable moist and choked full of carrot wholesomeness. the cream cheese which tasted like white chocolate provided an guiltish- oomph appeal.. worth every bit of the bta-carotene that i am suppose to abstain from.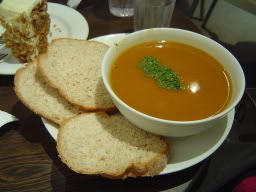 roasted tomato onion- a bowl of soul-fetching soup.
cedele che cedele..
emails. how many of us still use emails to converse today? and i don't mean emails that contain the following sentences, "WHERE IS THE DAMN REPORT YOU PROMISED TO SEND OUT LAST NIGHT" or "guys, I cannot make it for project".. not school emails but hotmail gmail yahoo- domain emails.
with msn, blogs and handphones, the email hardly seems necessary but i really beg to differ. i used to receive regular emails from aizhen, who updated her friends on life in cheltenham .. sad to say, the newletters are now dufunct .. perhaps cambridge just isn't as inspiring as cheltenham.. haha..
right now, some really good friends of mine and i have revived the email- updating concept amongst the four of us. very girlie. at times saucy. but 100% heartening. i think i should make it a point to update emails as frequently as life allows .. so you guys -charl, nadia and wai.. better reply too!