no wonder popeye loves olive.
pastry fans- *danger* up ahead. do not scroll down on an empty stomach!
after a couple of hours at arab street, yang and i popped on by to the olive tree resturant, which is located at hotel intercontinential for some not-very-simply high tea. the array of cakes and pastries was mind-boggling .. fancy-frenchy sounding and quite the unexpected.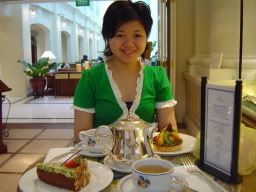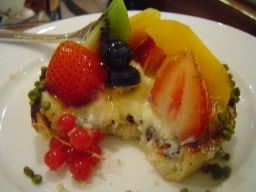 while yang had her heart set on the fruit tartlet (which was high on the cute factor), i could not decided between the royale (chocolate and hazelnut) and the cappucino cheesecake ... "opera" (another french-sounding chocolate dessert) .. banana almond tart .. and apple crumble ... and mango creme brulee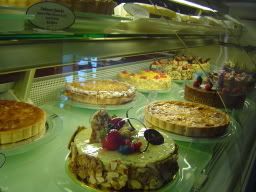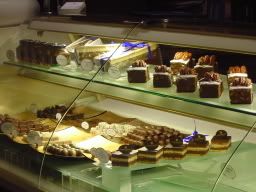 choices choices choices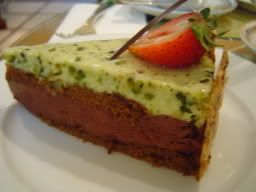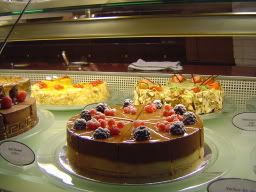 finally, i decided to switch to 'adventure' mode and ordered a 'nutcracker' which was basically soft chocolate cake with a neat layer of pistachio sitting on it. yum!
be tickled senseless by the exotic fruit tartlets (in butter or chocolate bases), creamy decadent eclairs and mango creme brulee.
it was a pity there were only two of us or we could have given our tastebuds a real deal but i am definitely making it a mental note to try out the mango creme brulee. the thing about being a wannabe- domestic-goddess is that you truly admire the absoluteness in these sweet darlings. the effort gone into perfecting a slice on layered cake, the brillance of creating something unexpected such as the mango creme brulee ..
it has been a great day .. pure respite away from the hustle and bustle of peddlars and marchants .. sitting by the pastry counter, sipping peppermint tea and enjoying some well- appreciated desserts .. without a care in the world.
sidetrack: a delightfully funny book!
the food taster by peter eibling