sweet bake of mine.
-pictures included-
lo' and behold ladies and gentlemen, i have finally come to my sense and decided that i cannot just be this highly-strung mildly-successful corporate feminite within my 3m-by-3m cubicle. so i have decided to roll up my sleeves -literally and get down to adding 'domestic goddess' to my list of credantials.
with all the boxes of durian abandoned in the fridge, i had wanted to make a durian strudel initially. the recipe i got hold of seemed dummy-easy as it consisted of less than 6 ingrediants, not foegetting how it was basically "mix and bake". but the recipe called for puff pastry and i went to ntuc, stood in front of the towering shelf of baking needs and stared wide-eyed at everything i did not need. i then suddenly found myself short of breath. i panicked. went home empty ended. no more pastry. end of baking dreams. part 1 at least.
but i was determined!
one must not be satisfied with just 'instant noodles and egg' under her list of culinary specialities so i am turning to desserts to build a practical foundation. first up- cheesecake. sounds absolutely delightful huh? well, i kind of cheated as there was no baking involved and all i had to do was mix the ingrediants up and leave in the fridge. hey at least i got something done!
after a couple of days worth of research, i finally summoned snough courage to try out a no-bake cheesecake pie. after pouring through at least a dozen cheeseake recipes, i found the shortest and most conscised recipe (since i often am too impatient to scroll down a long recipe).
my peanut butter-and-chocolate was a dish that consisted of 6 ingredients. but i have no idea what a canned chocolate pudding looks like. i found only rice -yeech- pudding at jason's. improvising, i used oreo cookies instead to create a base. using a ziplock bag and a rolling pin, i grind two packets of oreo cookies with the zest of a
domestic goddess
revengeful shrewd- no wonder they say baking is theraupeutic and lined them in a baking tray.
whisking the crunchy peanut butter, sugar, milk and cream cheese almost gave me a slight cardic arrest. all those nasty o-level-home-economics thoughts of getting my fingers caught within the crazy whirling of the beaters came rushing back to me though it probably took me 2 minutes to enjoy seeig the mix come into its own. see the peanut bits!?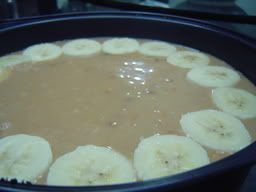 after pouring the mix over the crushed cookies, i sliced a few bananas -have i mentioned how i only eat COLD bananas?- and lined the pie (yes, a pie is born!) and left it in the fridge over night.
during the barbeque party with the extended family, i hesitantly took out the pie for my relatives to critic. to cut the long story short, they loved it! all of them qualified for the 'certificate of sweetness'. noone made snide comments about how they were oin their way to the emergency unit. though i would love to break into a 'blood is thicker than water' fable, i would spare you guys the mush i am incredibly into.
a pity i did manage to take a picture of the final outcome but i would just like to say a BIG HUGE SCRUMMILICIOUS THANK YOU to all of you who asked for second helpings and the recipe.
it has been accomplished. i am nowhere near the ranks of martha stewart but i am working on it! phew.