kitchen sunday.
sunday took yang and i over to town as mum met up with some friends of hers for lunch over at shimbashi's. on our part, the both of us took lunch residence at california pizza where yang continued to satisfy her 'local' cravings with herb-onion foccacia (spelt like this, yang), kung bao chicken spagetti and hot fudge brownie.
there really isn't any comparision for the pasta as i cannot think of any other place that produced this unique dish. but it was good. yup. g-o-o-d.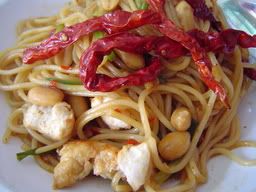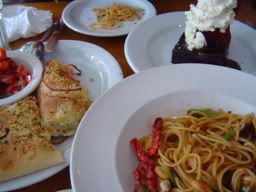 though the foccacia was my idea, i think i might have made a bread-convert out of yang. only pity was that i would have preferred the more cheesy version for pizza- emulation purposes. the hot fudge brownie was predictably good (i have not tried a bad brownie with ice-cream before..) sinful comfort food guranteed to deliver that dash of adrenaline and serene dreamy look upon first lick.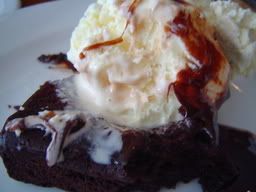 after that we strolled over to wheelock place where i introduced yang to the 2-D delights of paper, stickers and ribbons at
laine's papeterie
. as you can see, this very un-singaporean shop is a well-kept secret amongst her regulars. it is practically a treasure trove of girliness, definately not for those who played with guns and trucks as kids. haha
martha would have been pleased.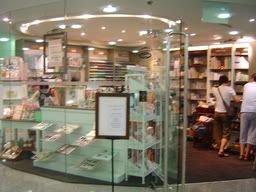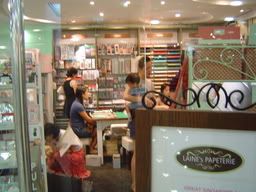 laura-ashley button stickers. french general pinboards. dessert post-its. birken handbag notebooks.. they have such an amazing array of stationeries! i had such a tough time trying to pull yang out of the shop.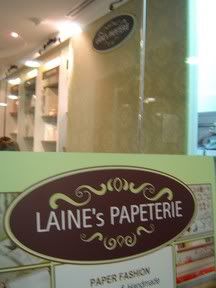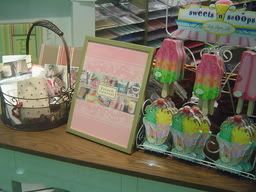 "Sugar and spice and everything nice..
That's what little girls are made of.."