banana-drama.
the un-domestic goddess strikes again!
a beautiful sunday morning calls for more baking. still consumed by the lingering bread/ cake vibes, i decided to bake a
banana cake/ loaf
and here are some pictures of it!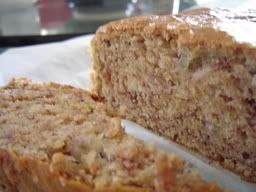 i made a few adjustments to it- replaced the egg with another banana (which i believe is what vegans use for egg-substitutions); springled tons of grounded cinnamon instead of vanilla essence and used brown instead of white sugar, which produced a lovely toffee colour! then there was this glossy surface effect, which was sticky?! i think it might have been the orange juice...
funny enough, the cake/ loaf was suppose to taste more like bread but mine came out super moist and fresh.
so it was like cake.. loaf? .. cake!
but the best part of the cake/ loaf is the sweet-smelling aroma diffused by the generous use of bananas. it's maddness for a banana-lover, i tell you..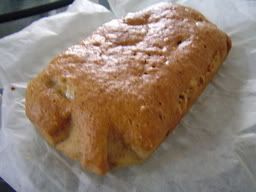 thanks wai for being my first
guinea
"taster" and for liking it! -hugs
by the way, i will be calling up people for sampling purposes. haha. so whenever you receive a "hey, will you be in town later" sms.. you know what you will getting. haha.