all wrapped up.
i like dumplings, especially those hand-made by my mum which is choked full of lean meat, water chestnut and prawns. i like dumplings more than wanton as i always feel cheated by the doughy bits on the wanton. so on a cold cold stormy afternoon such as today, i decided to just have a simple takeaway lunch of dumpling kway teow.
you know how nutritionists always tell you to pick your food according to the colours? like oranges, berries, celery sticks.. the more vibrant the colours the more advantageous it is to your health? well i reckon, all 'brown' foods though not as nutritious, is actually good for the soul.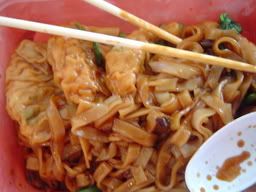 i mean think about it- char kway teow, full fat coke, brownies, milk chocolate are all insanely tasty yet do nothing for the expanding waistline. so judging by the grazy-drizzle of my dumplings noodles, it can only be y-u-m. sadly, the highlight of this dish is not shown .. the hawker actually threw in a couple of fried crsip-crunch dumpling skins to enhance an otherwise-quite-healthy dish. sigh.