How has your Christmas weekend been so far?
My family had a not-your-usual Christmas Eve lunch at
Hua Ting
, a family-favourite, well-regarded Cantonese restaurant. Given a choice, I would pick roasted duck or over turkey ANY day.
It was our first time there and the meal was thoroughly enjoyable. I was pleasantly surprised by the food and service after reading mixed reviews but it could also have been I was in a ridiculously good mood (it's Christmas and I'm having dim sum lunch with my family – I'm easy to please).
We had regular dim sum stalwarts, which need little introduction...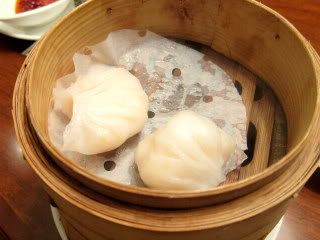 Hua Ting's har gows were full of plump shrimp. Too bad the plural of "shrimp" is still "shrimp" but I love how the words "plump" and "shrimp" kind of has a ring to it. These har gows came in threes but dad stole one before I snapped a picture of it. They were really good, I wouldn't blame him.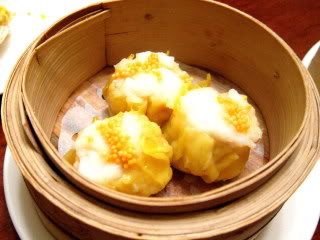 The siew mais were stuffed with fresh shrimp as well. Normally har gow is my thing and siew mai usually takes a backseat, but these shrimp-loaded siew mais were firmly in the passenger's seat.
Hua Ting's char siew paus were ok-good. The bun itself wasn't the fluffiest of the lot but the char siew filling was pleasing in a sweet barbequed, stewy kind of way. Am I making any sense here?
The stir-fried carrot cake was moreish. I'm clearly running out of ways to describe fried carrot cake. Do they hand make their radish cakes as they were teethingly soft?
And other more unique stuff like...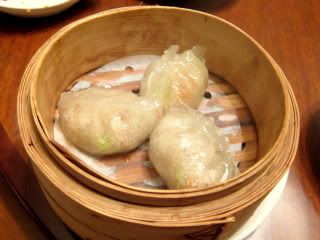 These steamed dumplings were not too bad as well. I think I'm slowly warming up to this kind of mochi-esque, translucent dumpling skins.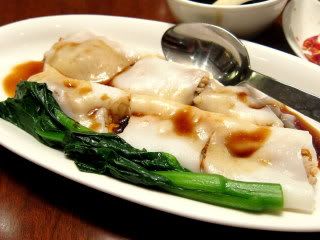 Cordeceps cheong fun – I could not for the love of char siew figure out what the filling was as my elder sister ordered it but I lapped it up anyway. The skin was kind of thick but I love the taste of rice cakes, kway teow and things made with rice flour.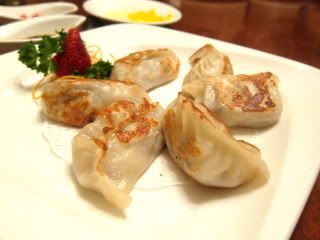 I found the mooshy texture of the pan-fried cod fish dumplings odd initially but when eaten with the crisp, slightly charred skin, it was easy to down at least two of them. Someone at the table missed out on them, oops.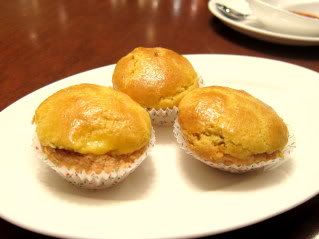 Chicken and mango tarts – I raised an eyebrow when my younger sister wanted to order it, but both eyebrows raised in agreement as I tucked into the sweet mash mango encased within the flaky, buttery pastry. I didn't taste much of the chicken but I didn't miss it either.
For our carbs, we had their signature stewed CK hor fun with scallops, fish and prawns, bathed in an egg gravy. It might not have the smoky "wok hei" aroma, but it was still incredibly satisfying. I probably haven't had hor fun in yonks and more than made up for it with multiple servings.
When the restaurant called me to confirm our reservation, they asked if we would like to pre-order some dishes and I placed an advance order for their roasted duck and pork. I'm not sure if you can order these dishes on the spot, but it would be a good idea to pre-order them because they are absolutely worth the arduous effort.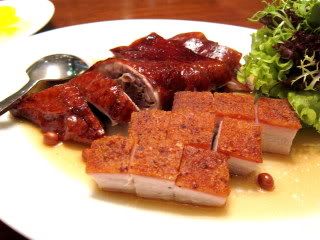 Oddly enough, this was also the last dish to arrive despite the pre-order. But even on a 7.5/10 fullness, this platter was incredibly satisfying. The roasted duck and pork both bore an ideal 10-20-70 percentage of skin, fat and lean meat; the skin of the roasted duck was ethereally crisp while the roasted pork skin was brilliantly crunchy.
Hua Ting's dessert menu is relatively substantial, considering some Chinese restaurants only offer 5-6 items for dessert.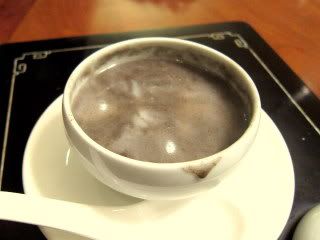 Kw's warm, soothing cream of black sesame and almond.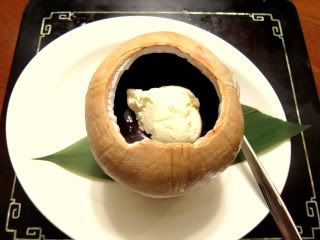 Mum couldn't resist the pulot hitam, vanilla ice cream in a young coconut. My sister got the chilled aloe vera with fresh fruits that was also served in a young coconut (not shown). Guess who had a scrapping good time with both coconuts at the end of the meal?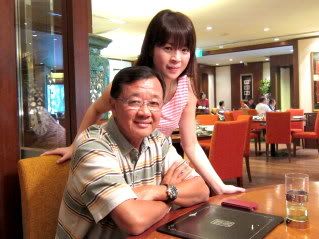 We are family




OH OH OH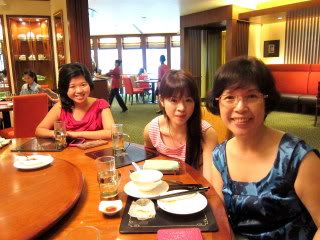 I got all my sisters with me