Are you tired of hearing about the wedding? Yeah, me too. I am exhausted by the planning… the to-dos, what-ifs and oh-nos. Believe me, it's all been good but I'm starting to feel like the kid whose trapped on a 30-hour bus ride to the Harry Potter theme park.
How was your weekend? I spent most of mine at work but still managed to enjoy quality couple and family time. Kw's uncle treated the family to a meal at
Tung Lok Classics
. Never been there and it was a treat so no expectations.
Though the restaurant's name and website suggest classic Chinese food, what we had that evening showed the stalwart also wanted in on the Mod Chin (Modern Chinese) piece of pie. There were a couple of bumps along the way but overall, it was an enjoyable meal.
The Four Tresured Appetizers was presented in a mammoth, dry-ice-spewing structure but deconstructed for easy dining.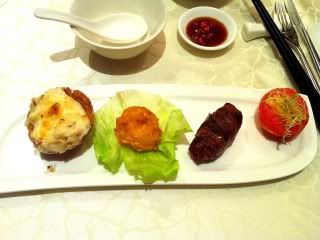 From right to left: chilled fresh fruit with Italy sauce (Italy? Be kind, don't judge); charcoal grilled Kurobuta pork roll (yummeh); deep-fried conpoy with salted egg yolk (crisp, musky tastiness); and baked crab meat served in shredded yam tart (kinda nasty and cheap tasting so I dug out the insides and ate the innocent unoffending tart shell).
[Ooops, forgot to take a picture]
Double boiled dragon fruit flower soup with conpoy and chicken. Aromatic, intense but light. No complains though the roof of my mouth begs to differ.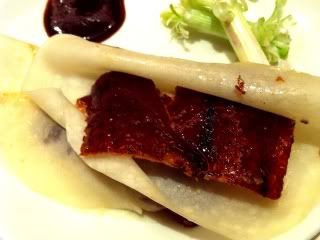 Peking duck. Lean balanced with a thin layer of fat beneath the skin. Better dough skins than egg crepes.
Steamed Live "Soon Hock" with black fungus in light soya sauce. A familiar banquet dish, which I really enjoy and this time round, even more so without those finicky bones.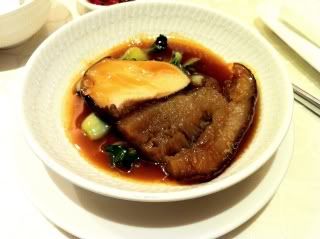 Braised sea cucumber with wild fungus in abalone sauce. Even for what it's worth, I'm not a fan of sea cucumber. Too squishy for my liking and always reminds me of that thing from B-grade horror movie, Tremors.
Next up was a carb dish - braised lobster, spring onion and egg white with Japanese noodles (we were advised to toss the Japanese noodles and egg white together). The flash-fried lobster was moreish and the sauce/ broth was incredibly smooth and comforting.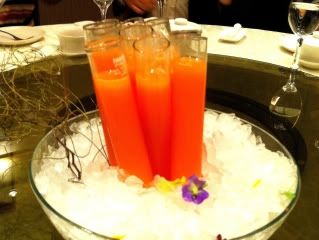 A palate cleanser - test tube fruit juice, made out of oranges, pineapples, carrot, papaya and two other I'm-sure-negative-calorie ingredients.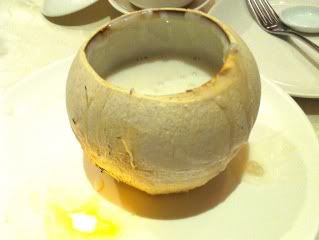 For dessert, we had double boiled hashima and almond served in a young coconut. A lot of drama but I doubt the flame served any real purpose other than 3-seconds of amusement. Likeable as hashima tricks my brain into thinking I'm on my way to the Promised Land of Tofu Skin.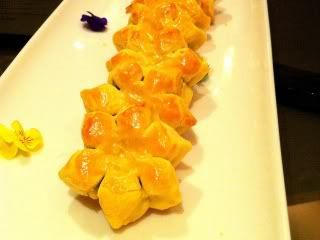 Petit four? Green bean and pandan shortcrust pastry. More butter, more power.