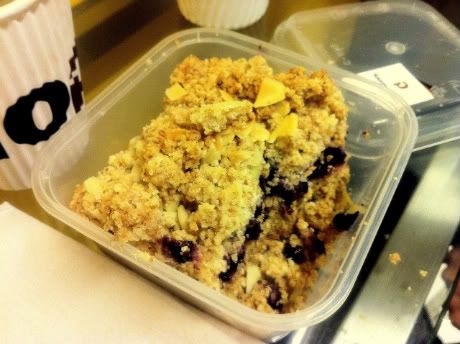 It's mid week so let's talk about cake, shall we?
I was shocked when kw let in he wasn't the biggest fan of the
Da Paolo Gastronomia's
white chocolate yogurt crumble. Was it blasphemy? Did I feel as if he cheated on me? Nah.... But if he told me the same about grilled salmon head, I think we might need to see a marriage counsellor - or hypno-therapist.
I recovered quickly enough to agree with him on the wholewheat blueberry cake as the crumble topping looked too good to pass up.
On the first couple of bites, it didn't taste anything like cake or dessert but chilled granola bars with blueberry jam. But we got the Da Paolo folks to heat it and boy, did that make a difference! The healthy, wheaty taste remained strong but a little heat helped lighten up the nutty, grainy texture.
This wholewheat blueberry cake probably won't do a good job of satiating your dessert cravings but if you are looking to have cake for breakfast, this would be a neat wake-up call.