There seems to be a running thread between
birthdays
and
steak
in our families. Maybe, it only counts as a celebration when a beefcake is part of the party? Whatever the hidden agenda might be, I am thrilled I finally got to try Le Bistrot du Sommelier, which I now believe is one helluva place to get your steak fix.
With a 1kg cote de beouf in the near horizon, we hedged our bets with more starters, instead of main courses.
The duck rillette was enticing but the maitre d suggested the foie gras terrine. Most of us would know how such situations could potentially turn out right? Well-meaning staff recommends something but the dish is less than remarkable; we are too polite to let him/her know, but we are secretly peeved with ourselves for not sticking to our guns.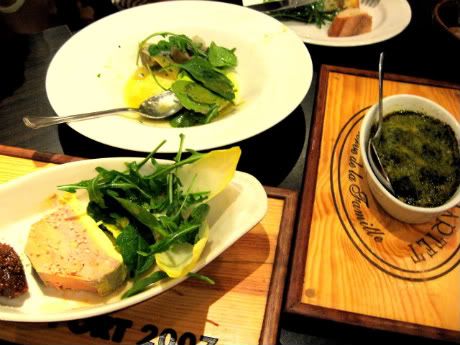 Well, I am happy to say, this was totally not the case.
If you can't take the gamy fattiness or the mental barrier of consuming foie gras, please skip to the next paragraph. Otherwise, you wouldn't want to miss out on the foie gras terrine, fig jam and brioche. The escargots and steamed purple artichokes were good but I was stuffed with love for the foie gras terrine.
I think we all silently pat ourselves on the back for ordering the 1kg cote de beouf. Served pink with shallots and garlic confit, the dish is a thing of beauty.
Here is the best part - it tasted even better than it looks! It is like discovering Dishy Guy in the room actually has admirable conversational skills and a cute, geekish sense of humour. Ok fine, that guy probably doesn't exist so let's just channel our carnivorous cravings towards the real beefcake.
I sure didn't hold back for someone who wasn't even hungry to begin with. With every two or three bites, I alternated with spoonfuls of potato gratin, savoury-sweet caramelised shallots and mooshy garlic confit. Man vs. Food, thank you for those tips!
With that amount of beef ingested, I think I might have developed an additional stomach for desserts.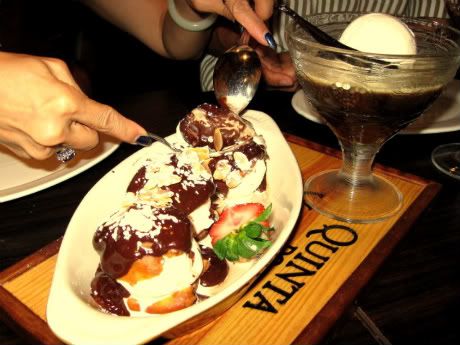 Profiteroles are not my go-to desserts but I wanted something chocolatey with ice cream and the waffles sounded like something that could knock the nail into the coffin.
Le Bistrot du Sommelier's profiteroles were in a league of their own. The vanilla ice cream and chocolate sauce might taste generically good but the choux buns were crisp. As in, cr-i-s-p crisp. How is it that I have gone through more than a quarter of a century without tasting crisp choux buns? No idea, but I promised myself I will make up for the lost time.
Beef and buns on a birthday? I am sold.