British chef Fergus Henderson mentioned in his book, The Whole Beast, "If you're going to kill the animal, it seems only polite to use the whole thing,"
I've always been quite selective about body parts; I'm not an ass, eye or brain person but I do find the cheek, liver and stomach quite desirable.
Our last pig-out took place at
Incanto
, a warm, down-to-earth trattoria, headed by chef Chris Cosentino. I can't pretend I know an offal lot about chef Cosentino's philosophy towards inner beauty but I was snout over heels in swoon, in a come-what-may mode by the end of the meal. If you heart skips a beat for innards, nose-to-tail sort of meals, you would love Incanto.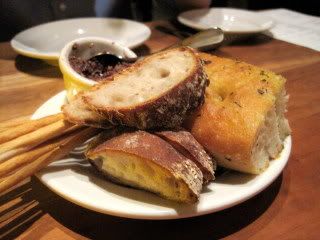 The hearty bread platter came with crusty baguette, savoury focaccia and crisp breadsticks coated with seeds and glistening sea salt, all accompanied with an addictive punchy olive tapenade. Awesome if you heart bread, detrimental if you lack self-discipline, which is kind of both in my case.
We shared quite a few starters.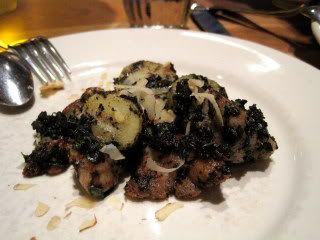 Little nuggets of smokey sweetbreads.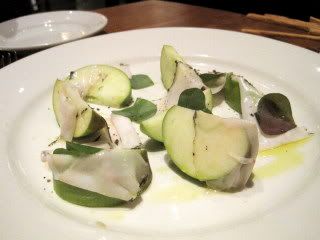 Filmy, ethereal Boccalone lardo with sprightly green apples.
And a whole sampler of Boccalone cured meats from prosciutto to salami.
The awesome thing about Incanto is you could order their pasta and risotto in either the starter or main course size, which was godsend as In-N-Out was still very much In our bellies. I know it seems sacrilegious not to order anything from their meat menu but their carb options sounded just too good!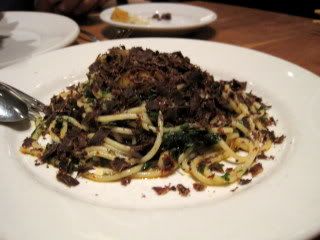 A raw egg yolk beaten through the spaghettini provided canoodling power among Sardinian cured tuna heart and parsley.
The 'best parts of the chicken' risotto was plate-scrappingly good – yup, we are talking kidney, liver, the inner-workings of the chicken.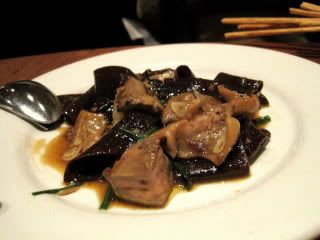 As you can imagine the pig blood pappardelle with liver and trotters was incredibly rich; but it was a dish that would cause sleepless nights for the right reasons.
Our desserts were thankfully offal-free.
Pear pound cake with red wine ice cream.
You can't leave Incanto without trying their panna cotta. Their moussey but by no means, mousey Douglas fir panna cotta was uber delicate and utterly swoon-worthy. Panna cottas this good make me forget the need for chocolate satiation.
Incanto provided a squealing awesome end to our trip and with all that food in me, I was pretty darn glad about that 16-hour flight ahead of me