It was easy enough to get a table without reservation during lunch time but according to a Travel & Leisure article circa 1998 (yup, we're talking 'the nineties'),
L'Idiot du Village
was the "hottest restaurant in town". This shoebox restaurant on Rue Notre-Seigneur sits only 35 pax and on a weekday, apart from us, serves lunch to dignified, well-suited-up professionals. Quite an odd observation.
Upping the quirkiness, the hand-written menu was wholly French and had to be roughly translated by our server. A cup of fresh olives accompanied us as we ermed and ahhed through the interesting-sounding menu options.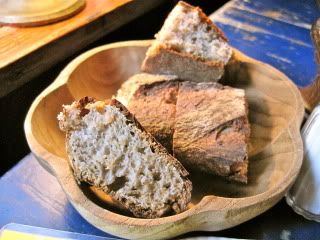 Frankly, I think both of us couldn't really tell what we were ordering, opting for the "prepare for the worst hope for the best" mentality.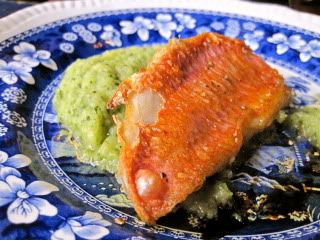 rouget riede au chive, olives bonbon
Yang loved her Mediterranean rockfish, which was pan-fried then stuffed with olives, and accompanied by mashed cougette and chives. I can't describe it properly - nothing was truly surprising yet the entire ensemble was surprisingly good.
saint jacque polees aul laipin, licoide glaciale
Another tickling starter was the scallop and rabbit, which rested with the most interesting salad. I have never had such greens before - they looked as if they were covered with furry dew drops and tasted unpredictably crunchy.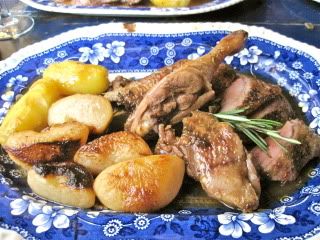 As for the mains, every animal group was well-represented but we easily decided on
canette de challans au sang pour deux
.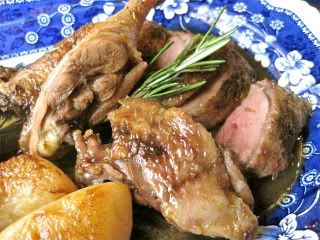 Our server,
Er, how do I say ... biiiig duh-uck..
.
Did you just say,
big duck?
YE, WE CAN!
The dish took a while to arrive and when I glanced into the open kitchen, the chef within glanced over and smiled as if to say, soon
le biiiig duh-uck
will be you. Soon enough, I found myself in good company of tender roasted duck, ever-so-slightly pink in the middle.
The "big duck" was served with "potatoes" done in two ways. I poked my way through the caramelized "potato", surprised by its softness.
Hmm, funny Belgian potato
, I thought to myself.
The roasted potatoes were more familiar but I suddenly realized the 'soft potatoes' were indeed daikon!
Never had a more beautiful apple tarte grazed our table. Apple tarts are usually very homely desserts but this looked so sophisticated with its apple silvers and slick sugar-glaze finish. I didn't care for the cinnamon (yuck) ice cream but that just left me with more time with the tarte.
The vanilla ice cream and meringue with caramel sauce was a dessert that agrees on paper, in French and our bellies.
Finally we ended our meal with coffee and financiers (yes, we can!). True to the whimsical spirite of L'Idiot, the sugar cubes were suit-shaped! The frivolous things in life bring out the best in me.
A Royal Flush meal? Maybe =)