Idylic and village-y-like, Brugge is a pretty town, a welcome change from Brussels. As it was Ascension Day, most of its shops were closed - which was a real pity as we chanced upon quite a few interesting boutiques. Despite being armed with a map, we walked around in circles (hey, it was a 0.50 euros map), cruising through its back alleys and nooks.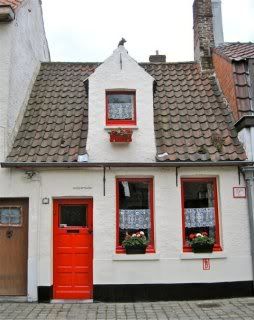 For such a sleepish weather and town, we had cake in a popular cafe near Saint Salvotore Cathedral. It's cakes and tarts are gloriously displyed by the window so even if I don't provide you with an address, it would be hard to miss this place.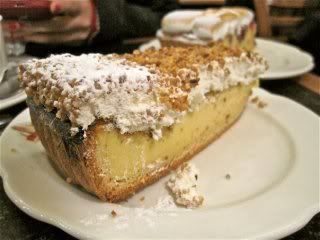 Noisette Flan, which tasted like a milder version of our Chinese egg tarts, smothered with light fresh cream and grounded hazelnuts.
We also had a meringue berries tart that tasted almost like the flan. These were definitely very old-school cakes. Dumpy, conventional slices that needed little introduction or fitting in. What you see is what you get. In fact, I find myself bumping into such old-school pastries throughout our Belgian trip. Nothing similar to the likes of Sadaharu Aoki and Pierre Herme (which really explains their fame).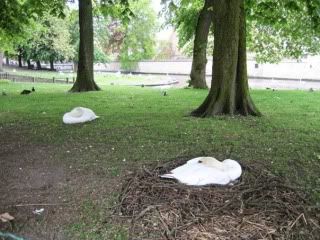 Phh, we caught a couple of swans nesting too - a first for me.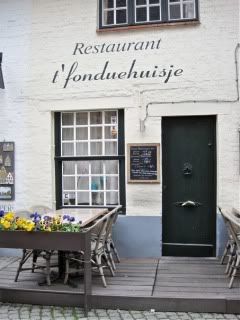 As much as I like the idea of horse and carriages, I didn't grow up on fairy tales and I'm well aware of how horses smell. The people of the carriages looked happy though.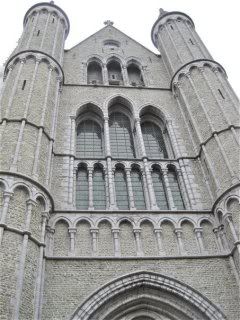 They don't called this place
mini Venice
Venice of the North for nothing.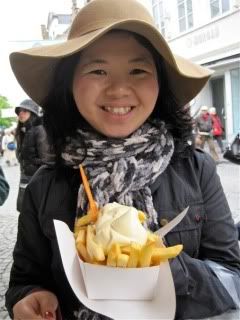 And I leave you with a picture of Yang with a tub of fries and mayo. Now THAT'S a genuine smile.