My sister and I spent more time at
Exki
than what we would like to admit.
It was cold… It was drizzly… The shops were closed… Cathedrals were boring …
Trust me, I could go on and on with the excuses.
Not to take a piss at it but hanging out at this café with its nifty supply of fresh baked goods and pastas sounded way better than braving the chills to visit Monsieur Mannekin Pis. And besides before 11AM, their delicous coffee (served with awesome carrot-extract chocolate) was going at 1 euro.
Yes, it's a chain but tell me in your good conscience you wouldn't like to hang out here more often?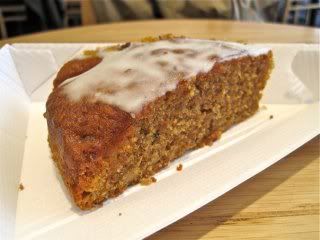 Besides practicing the fine art of doing absolutely nothing on our vacation, we picked up a few goodies to while away our time.
A puckerish raspberry-pistachio tart , chocolate-slathered somezhing sandwiched with pear and cream, carrort cake with icing … and other breads and pastas that weren't photogenic enough.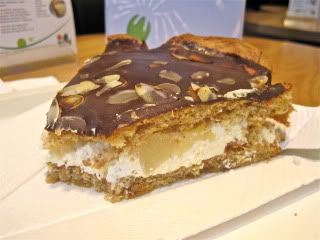 Things that reminded us,
Where the heck is Spring?!
I have been here long enough to know that most cakes in Belgium aren't OMFG but they were better than decent and I always had a lovely time in Exki.