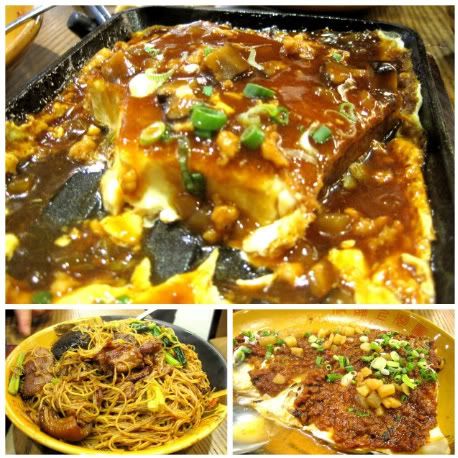 I'm not a singer and I can be emotionally constipated at times but I have no qualms about proclaiming my love for tofu hot plate, or otherwise and also affectionately known as "Tie Ban Dou Fu".
Can you feel the
love
sizzle
tonight?
As a kid, Tie Ban Dou Fu was a four-word term I deemed more important than some Chinese proverbs - not that my Chinese teachers really cared. And Paradise Inn's hot plate did a mighty fine job of evoking those childhood memories that were overweight with many unrefined but delicious thingies.
Stretching our excavation skills, we tucked into the firm, fleshy steamed fish head with spicy bean sauce, leaving behind nothing but a small pile of bones. Just in case you were wondering, what about the carbs? Well, we carbed up our meal with a plate of braised pig trotters bee hoon, a hearty heart-clogging dish.
Paradise Inn
313 Somerset Road
#B3-39/40