It took a lot of will and effort to leave the White Chocolate Yogurt Crumble on the shelf - I'm not sure if it will ever forgive me - and we ended up getting the Crunchy Hazelnut slice at Da Paolo Gastronomia.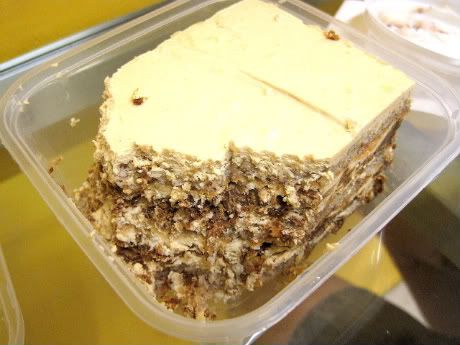 It reminded me of a Ferrero Rocher sans chocolate…
Mille
layers, nutty nibs and wafer slivers but without chocolate. So it did feel like it was missing something, perhaps a handsome drizzle of chocolate fudge or a dollop of fine gelato.
But we had robust coffee.
Coffee? Wimp!
Come on folks, I'm approaching quarter of a century, can't eat ice cream and hot fudge just beause
I feel like it
... Anyway, the coffee really helped so all's swell in the end.
Wouldn't it be neat to have a Tupperware party where we all have to dress up like Mad Men's Betty Draper? Mmmm
Da Paolo Gastronomia
Paragon #B1-20
290 Orchard Road
Tel: 6738 1462