I don't do very much over the weekends these days. It's almost as if my body knows 'It's the Weekend' and momentarily refuses to do anything that would require me to strain. But anyway two Sundays ago, the four of us around the table mahjong-style, ready for an afternoon of kickass dim sum. With a pencil and dim sum menu / order sheet, we ticked off everything that incited joyous childhood memories and habitual cravings.
We had the roast pork and xiao long bao. I was gleefully surprised by how little fat the roast pork had but like the xiao long bao, the pork smell was almost overwhelming. I know what you must be thinking,
Woman, you ARE eating pork so deal with IT.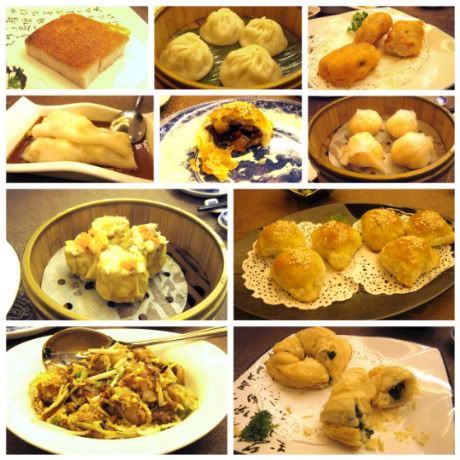 Other dishes we had were:
Tweedledee and tweedledum har gaw and siew mai. I don't know if it happens to you but whenever someone suggests har gaw (siew mai), someone else would yell out, how about siew mai (har gaw)?
Anyway the har gaw was shrimp-packed good stuff and the siew mai was tasty with strong Chinese mushroom accents.
Deep fried shrimp in beancurd skin – crunchy good stuff with firm but squishy insides; and chee cheong fun with shrimp – ok at best; XO carrot cake was tasty but "XO" is such a misnomer; and deep fried scallion pastry - buttery flaky pastry filled with oomphy scallions.
And lo and behold char siew sau. Now my favourite child of the dim sum family deserves a paragraph on its own. Yes, sweet pea. Anything for you, sweet pea. Taste Paradise's baked char siew pastries were good but not as earth-shatteringly so as Imperial Treasures. The triangle nobs filled up considerably with sweet saucy char siew but alas, the too thin pastry wasn't able to hoist it to infinite elaterium.
Trust me, we were tempted to order the much talked about custard buns but that would have sent us into food coma.
Décor was ironically gaudy and opulent for a modern Chinese restaurant; service was a quintessentially Chinese – meaning lots of hands swooping in and out to change our plates, re-align our tea pots and plates to fengsui-approved geometric positions.
Taste Paradise at ION Orchard
ION Orchard #04-07
2 Orchard Turn
Tel: +65 6509 9660