New Year resolutions may be so last decade but I've made a pact with Santa Claus and various deities … to be a better friend, daughter and sister … forgive those who have sinned against me … have better table manners … to increase the odds of future pilgrimages to GOTO.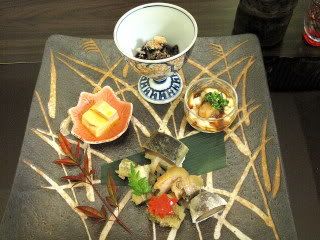 After a short necessary ritual that involved cold towels and choosing our sake glasses, our 10-course Chef's Special Kaiseki officially began with a beautiful smorgasbord of appetizers.
I gingerly made my way through two deliciously smooth cubes of delicious ankimo, seaweed and bonito flakes, a cup of indulgently creamy shiroko in ponzu sauce, saba nigiri, marinated top shell, shishamo tempura, crunchy konbu, and the loveliest marron tempura, pausing momentarily to register the ethereal flavours and thank my lucky stars.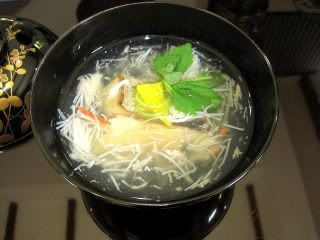 Next up, we had a thickish crab soup with sea bream and sesame tofu, piqued with a baby's pinch of yuzu.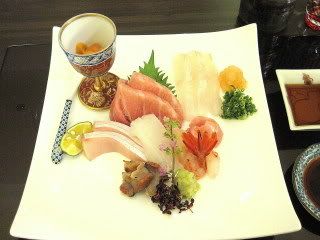 The sashimi platter was a gorgeous array filled with generous cuts of otoro, hirame, amaebi, hamachi no hara, ika, uni, hotate and a certain shellfish. Unapologetically fresh and pleasurable, I found myself elbow deep in happiness.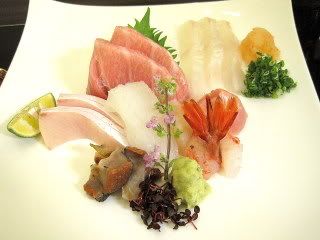 Interestingly, the sashimi came with two dipping sauces – your regular shoyu and another called "chirizu" for the white fish, where we mixed in the red pepper spiced grated daikon and chopped negi.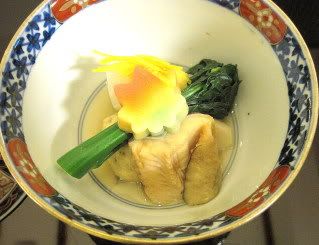 The next dish was unexpectedly one of my favourites. One probably wouldn't expect glee or dizzy spells from a flower-shaped rice cake … or steamed mountain yam and turnip … or egg ball and anago, but the simplicity of the dish was shockingly outstanding.
A grilled firm white fish followed thereafter.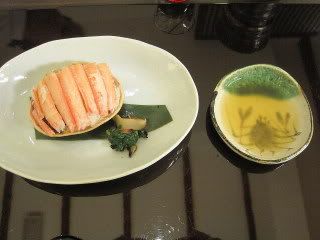 Trudging along, we had a seriously pregmant koubako gain (female snow crab). I absolutely loved how they picked a crab-imprint dish for the vinegar dip.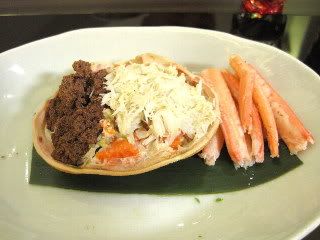 As it was winter season of winter, they served us individual kaminabe, with miyazaki wagyu beef. Gawd, I was almost tempted to break into one of those exaggerated Japanese-food-host moans - luckily I remembered my manners in the nick of time (check for New Year resolutions).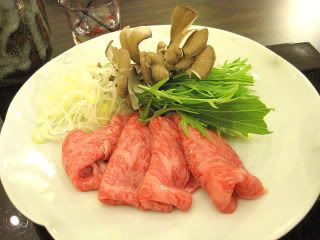 As it was a day before New Year's Eve, they served us soba, with spicy minced daikon, fish cake, and the sweetest beancurd skin sacks.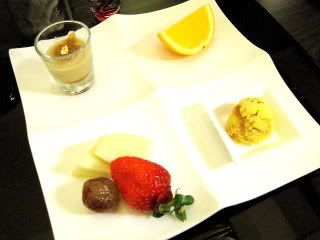 Though full, it was a bittersweet moment for me when our dessert platters rolled by as that signalled the closing of a beautiful meal. We had Japanese fruits (strawberry, pear and a peeled (?!) kyoko grape), sliced orange jelly, pumpkin and caramel ice cream, and genmaicha pudding.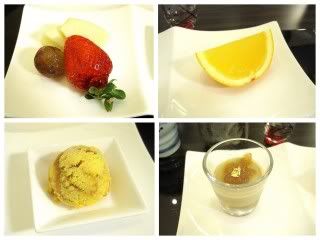 Like the rest of the meal, nothing was overly complicated but just as pleasing. I especially loved the luscious genmaicha pudding – and how it let itself cradle in the loop of my tongue.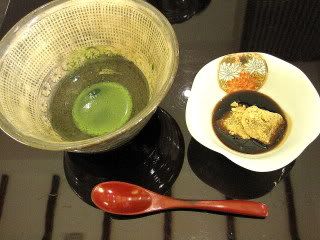 Our final dish warabi mochi, dusted in kinako and partially submerged in brown sugar syrup. To counter the sweetness, we downed the uber-intense matcha in a single gulp right after the warabi mochi.
I truly envy the chef at GOTO. In a restaurant that sits less than 15 people and perhaps not more than one sitting, chef Goto Hisao could dedicate unwavering attention to each and every dish that he sends out. Unlike omakase where the chef is a rockstar showpiece, the chef here only appeared at the end of the meal, his quiet charm a reinforcement of the delicate meal he had just prepared.
Amazingly subtle, the tranquillity and allure of kaiseki echoed throughout the meal, making this one of the finest meals in Singapore.
GOTO
14 Ann Siang Road #01-01
Tel: 6438 1553