Best curry puff in Singapore?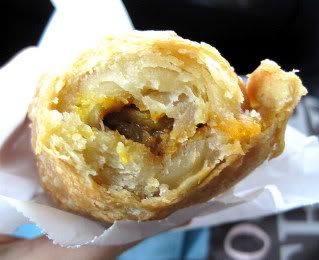 It's hard to argue against something fresh out of a deep-fryer, with feverishly butterful doughy crust and not-too-spicy but well-seasoned insides. You should have seen me eating it - in the car, on the way home, clasped tightly within my fingers.
Soundtrack of the Day: Bananarama's Love In The First Degree, which would probably be quite appropiate considering the owner's recent hubbub with the law.
Tip Top Curry Puff
722 Ang Mo Kio Avenue 8
#01-2843 Hiap Hwa Coffee Shop