We had the simple street ramen for last dinner in Tokyo.
Tonchin is a popular chain but we didn't have to wait long as it was only 6pm and bar-counter seats weren't exactly linger-friendly. It's interesting to note that the XL, L and M sizes cost the same.
Actually, simple is not exactly the word I would use to describe Tonchin's ramen.
There's nothing meek about Tonchin's broth. The miso-pork broth was creamy, hearty and almost opaque. The noodles were thick-ish and when the guy prepared our ramen, he gave a swift swat before transferring it into the bowl. Did that make the noodles bouncier or chewier? I don't know but it sure made for a good theatrical performace. The char siew was heart-achingly tender, unlike anything I ever had in Singapore.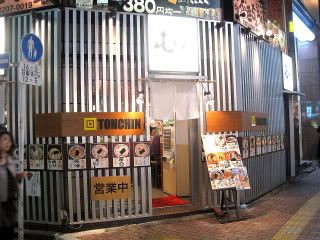 Tonchin
1-11-10 Shinjuku
Tel: 03-3207-5887
Tokyo
And various outlets