You can't come to Brewerkz and not order their burger.
Well … The bistro burger (blue cheese, sautéed mushrooms and grilled onions) sounded,
Come get me
but it wouldn't befit the lazy soppy mood that a rainy Sunday afternoon created.
I got to write about the rubs before I get sappy over the chili. The half-rack BBQ pork ribs was tasty though lacking that slightly-charred surface de riguer for any self-respecting rack. I like how they served additional BBQ sauce as a separate condiment, instead of slathering it all over the rack.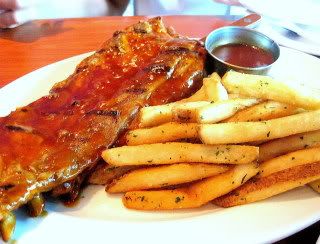 The herb-garlic fries were insanely good though. I'm almost tempted to say that they beat any of the potato fries I've ever had - truffle fries, shoestring fries and steak fries. Apart from the occasional dunking, they were good on their own, casting away the need for any ketchup and mayonnaise.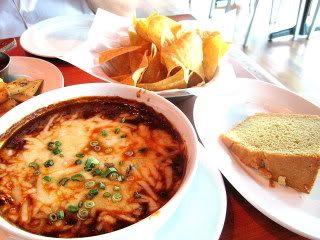 So what's great for a "lazy soppy mood that a rainy Sunday afternoon created"?
Chili.
My eyes lit up as soon as I saw the word "chili," and I could only decidebetween the Chili Cheese Fries, Chili Dog or Beer Chili Bowl. The Beer Chili Bowl won out eventually because it came with either tortilla chips or cornbread (oh, we had both for an additional charge).
Ever since I studied To Kill a Mockingbird for O levels literature, I've always wanted to try cornbread. I remembered how Calpurnia would make southern food for the Finch children and I was absolutely salivating at the thought of artery-clogging food in insane quantities. Please tell me I'm not the only person who got hungry reading To Kill a Mockingbird.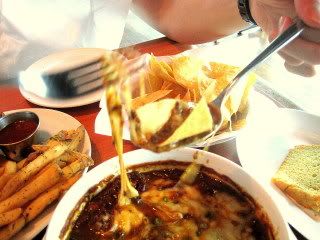 Beef and beans with cheddar cheese reporting for Dunk Duty.
The beef, kidney beans and cheddar cheese concoction was a magnet for everything from forks to fries, cornbread to chips. I'm pretty sure if I had some dunk-worthy ciabatta or naan, they wouldn't have been spared from the slosh fest.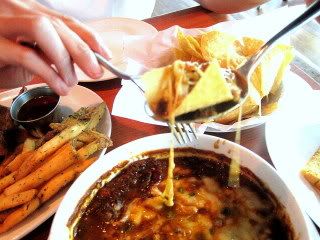 The cornbread came in a cake slice, instead of cubes. It was distinctively sweet which made it difficult to enjoy with the chili but on its own, it was worth the food coma that I had after polishing it off. It was one of those food where the first few bites taste odd and you take a couple more bites just to make sure … but by then, the oddity starts to grow on you … and you think, hey it's not bad and it would be such a waste to not finish it.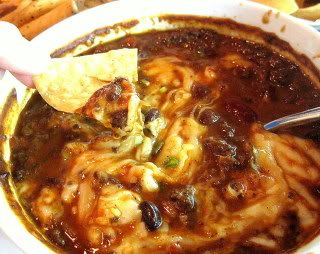 These blurry pictures remind me of the comfort of soppy food.
But I will try their burger
soon
.
Thanks for the voucher, Dave!
Brewerkz Indoor Stadium
2 Stadium Walk #01-06/07/K1
Singapore Indoor Stadium
Tel: 6345 9905