I recently realized that the Gratification Meter goes off the charts when I take chocolate-and-coffee anything. Double the endorphins, double the adrenaline… I just get
weallly weallly
happy after that.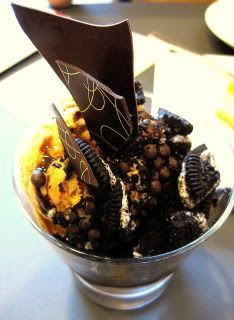 Obolo's C3 – Coffee, Chocolate, Crunch... Well, actually there's a 4th C – Crack. This offering is literally dessert on crack and a real winner.
Weallly weallly happy...
The best (or worst) thing is it comprises of Swiss-account-rich Movenpick ice cream. Best because that means you can replicate this with readily-available Movenpick pints from supermarkets (don't forget the oreos!); worst if you are an ice cream snob who believes in the healing powers of artisansal, homemade dessert.
If you belong to the latter category, go for their cakes then.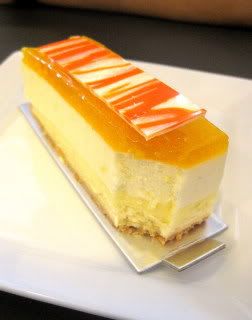 Yuzu – vanilla genoise, mango-passionfruit gelee, lemon mascarpone mousse, yuzu citrus creamaux on a millefeuille base.
With all that going on, the yuzu disappeared in the presence of stronger flavours. It wasn't a bad slice, on the contrary, the Yuzu was still rather pleasant. Too bad it suffered from the Curse of Pretty Cakes – too pretty and thus complicated to provide instant gratification.
Obolo
452 Joo Chiat Road
Tel: 6348 9791