Our Shoebox Restaurants Adventures continues at Marui Sushi.
We stumbled upon Marui on our way to Kazu and were visibly intrigued since the 10-12 seater restaurant was full on a weeknight. Although we wanted to dine there the following week, the lady maître d advised us to visit on a weekend instead since they usually entertained corporate clients on weeknights. So no stories of drunk salarymen in this episode.
Starters – seasoned scallop and raw tako in wasabi-based sauce
This omakase meal took place more than 3 weeks ago… so I'm trying my (very) best to recall as much as my goldfish memory permits.
The seasoned scallop may not be new but the wasabi-soaked tako was tangy and slimy; in other words: fun on the tongue.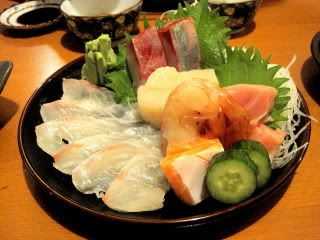 The display of sashimi made me smile in a way that most people do in front of babies. Hamachi, kampachi, salmon belly, hotate, ebi and chutoro (which was almost as good as otoro) … All fresh and flabby… I could have gone all teary-eyed like most people do in front of babies.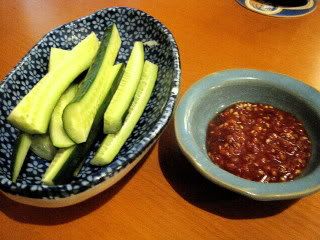 Sliced cucumber and bean sauce.
I love vegetable sticks (carrots, yes. bucumber, maybe. daikon, no.) and Japanese bean sauce dips. One of the raw moments when I could make myself eat raw vegetables without hurling or sulking. Unlike peanuts in Chinese restaurants, vegetable sticks/ dips is one of those seems-complimentary-but-not dishes that I don't mind paying for. Marui's bean sauce is chunkier and more fibrous – like the chunky version of peanut butter.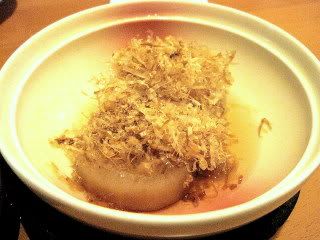 Simmered daikon with bonito flecks
Daikon is not something I get excited about. The bonito flecks looked alive, like the writhing polyps / victims of The Little Mermaid's Ursula.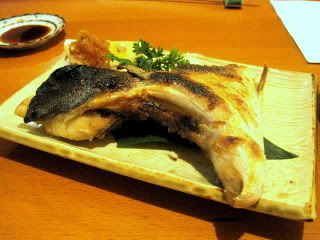 Grilled hamachi cheek
Another winner unless you don't like the smoky charry aroma and the thrill of nudging out juicy fleshy bits. AWKWARD PAUSE. That's ok, I'm not judging... but I don't think we can be
fwiendz
.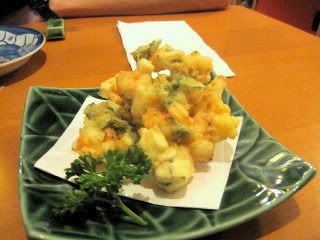 A palm-sized tempura with prawn, parleys and carrots. It didn't deviate too much from your average tempura though the parsley made it a sprightly treat.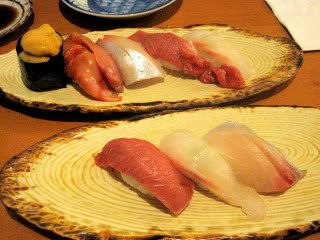 If truth be told, I was disappointed with the sushi. No complains about the fish – again, fresh and flabby, but the sushi rice was too dry for its own good. Sadness.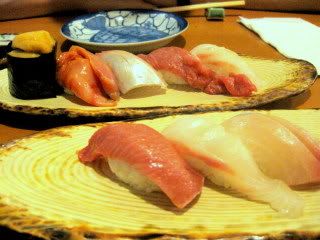 We couldn't stomach dessert. It might not seem like a lot of food but this was after we ate enough cake to feed a Laotian village and maybe, an American family.
Marui Sushi Japanese Restaurant
5 Koek Road
#04-01 Cuppage Plaza
Tel: 6738 6048