Peck. Nibble. Nom. Munch. Graze.
Words common to my meal repertoire.
At work, my typical lunch is a 3 hour long affair, where I make my way through fruits, popiah and curry puff and an endless supply of chocolate and candy. While not the healthiest, I have come to embrace my grazey habits.
But I di-graze... and back at Graze, while waiting for the rest to trickle in, the four of us ordered first.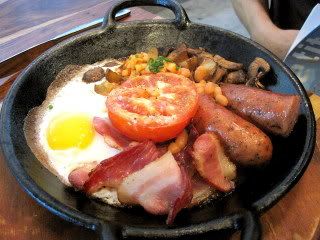 A hearty mix of bratwurst sausage, smoked bacon, grilled mushroom, tomato half, country potato chunks, fried egg, baked beans and plum chilli salsa, Graze's signature cast iron (ouch, careful it's hot!) pan is the reason why your cardiologist's wife has kept her aesthetician on tenure.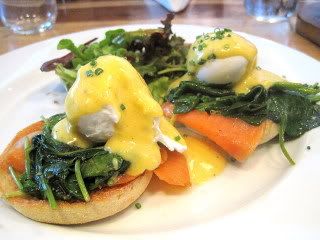 Following with my Must-Have-Eggs grain of thought, I went for the Eggs Benedict. Well it was more Eggs Florendict as I had mine with smoked salmon and spinach. The surprisingly tangy hollandaise sauce was a great pique-me-up and I loved the gloriously green but limp spinach.
I was struggling to choose between the Eggs Benedict and banana pancakes. Suddenly on my left, a glossy voice (er, actually it was Huiming's) semi-shrieked, let's share the pancakes!
Care and share. Didn't we learn that at home? Yay.
The early birds gets the banana pancakes and French toasts – on top of their Eggs Florendict.
Four blini-like pancakes, accompanied by chunks of grilled banana (disturbingly good), drizzled with walnuts and thick redcurrant syrup. You could choose between whipped butter or vanilla ice cream but we unanimously chose vanilla ice cream. The ice cream wins love-handles down - no contest here.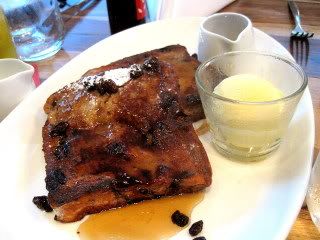 Bearing my dislike for cinnamon, I thought I wouldn't give two hoots about the cinnamon raisin French toast. I had a small piece just to be polite… and ended up mopping up the dish. Though harbouring minimal egginess, this syrup-drenched block of toast was foot-in-mouth awesome.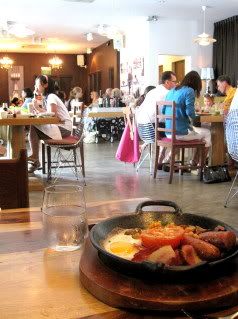 I really enjoyed my time at Graze. To be honest, I wasn't expecting much thanks the mixed reviews. If it weren't blazing hot out there, I would have plonked myself at the alfresco lounge.
Graze
4 Rochester Park
Tel: 6775 9000