After brunch at Gramercy Kitchen, we strolled around Garosu-gil Rodeo and Apujeong. Besides the charming Garosu-gil (like Samcheong Dong), Rodeo (
I rather be at Samcheong Dong
) and Apujeong (
generic high end European brands … I rather be at Samcheong Dong
) were oh-hum.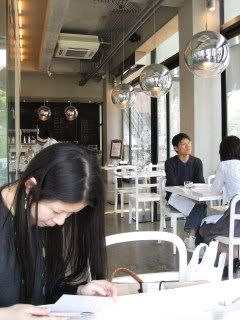 My sister wanted to have "coffee" at Bae Yong-joon's Gorilla in the Kitchen and though
I rather be at Sam-
, I went along as it was her holiday as much as mine.
But of course, I didn't do just "coffee". I flipped through the menu, which sounded a lot like what Gwyneth (yes, microbiotic Gwyneth) would serve if she had a café.
Oven Baked Italian Tomatoes … Grilled Chicken Breasts and Orange Salad … Rice Covered Tofu Salad with Sesame Dressing …
I had no idea ahjumma-killer Bae Yong-joon was such a health freak. Perhaps he took it a little too literally when women complained of racing pulses and spontaneous underarm perspiration when they see him.
Oh Yong-joon Oppa,
i
t's just your pretty pretty face!
Granted the food looked delicious, I didn't want salad with my coffee. And to my horror, the menu didn't indicate any desserts or cakes!
"They don't have cakes?" I whispered to my sister.
She points to the table mat "No cream. No butter ..."
I don z unterstanz you. No desartz?
Luckily, this wasn't the case. Struggling to explain in English, a waitress informed us that they had chocolate cake, tiramisu and blueberry cheesecake. She mentioned the chocolate cake and tiramisu would take 20 minutes (I have no idea why and it would be just too trying for her to explain) so we ordered the blueberry cheesecake.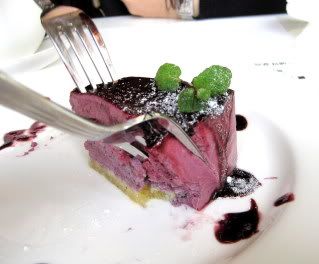 Whoa. It was incredibly soft - almost as if it received the Yield-to-Mah-Fork! command. And you could tell it was blessed with real blueberries. Best of all, it didn't taste like what someone on a diet would force herself to take.
An extremely chic restaurant but I think French chefs might consider this place 'The Unsaintly Harem of the Devil' as no butter is used the kitchen.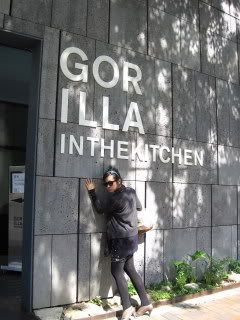 Monkeying around Gorilla in the Kitchen
Gorilla in the Kitchen
962-11 beonji, Daechi 3-dong
Gangnam-gu, In Gangnam
Seoul