Bewildered by lunch, I needed a quiet place to think about what just happened and Chihuly Lounge at Ritz Carlton was godsend to the weary and worn.
I didn't plan on hitting one buffet after another.
It just happened.
Like how people hit the "Reply All" button when they don't plan on telling the whole world what they were up to all weekend.
I'm not quite sure what the traditional afternoon tea theme was. It wasn't a mind-blowing selection … sandwiches, tarts and salads made up the savoury selection and chocolate dominated the sweet stuff.
And chocolate, my friends, chocolate is the path of least resistance.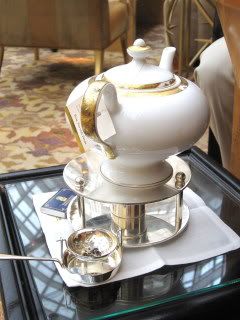 Close to the pinnacle of luxury, my teapot had its own bunsen burner to keep it warm! Ok, technically it was just an ornate candle stand with a tea light, which was useless for heating anything. But it was pretty and pretty works for me when I'm feeling down.
These desserts may not have been spun out of Pierre Herme or Sadaharu Aoki's magic fingers but it is
THE
Ritz Carlton, aka oneofthebestfivestarhotelchainsintheworld, so everything was worth nibbling into.
A shaded view of what was available: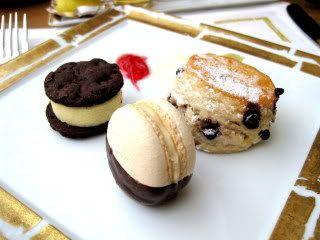 Chocolate chip scone, macaron and cheesecake.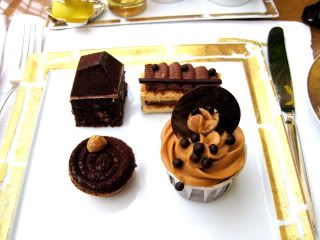 Nutella tart, whipped-cream topped brownie, chocolate mille feuille and peanut butter cupcake.
I wurf the
peannua bunuauur
. And even more so when it warms itself and clings onto just about anything.
What's that awesome smell?
I see an oven. I see ramekins. I see chocolate soufflés. One of the very few things more awesome than a chocolate soufflé is a MADE TO ORDER chocolate soufflé with vanilla bean ice cream.
I can hear the angels singing – in Dolby Surround Sound System.
I was lost but now I'm found…

Chihuly Lounge
7 Raffles Avenue
Lobby Ritz-Carlton Millenia
Tel: 6434 5283